Why travel around Australia?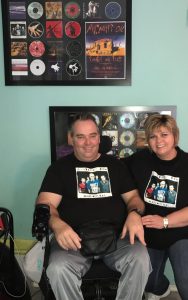 I have paraplegia at the T3/T4 level, which is around the level of my chest, and therefore cannot use my body below my chest level.  Combined with chronic pain, this presents many problems when it comes to travelling around Australia.  My favourite band, Midnight Oil, announced they were reforming and setting out on a worldwide tour including the USA, Canada, South America, Europe, UK, and Australia.  I had to see them, as well as taking Madie (my partner) and Jasmine (daughter) and Ben(son), so set a goal of the concerts in Brisbane, Adelaide, Melbourne, and Sydney. This blog shares wheelchair travel tips so your journey can be an enjoyable experience.
Wheelchair Travel Tips #1 – Bring a friend/partner/carer
I try to be as independent as possible. However, a holiday is more straightforward and more enjoyable when someone comes along.  On the way back from the Sydney concert, I flew home without anyone flying with me.  It is possible I could holiday by myself, but the pain I experience would prevent this.
Wheelchair Travel Tips #2 – Fly QANTAS
I always fly Qantas for a few reasons.  Firstly, they offer discounts for people with a disability (10%), and for your carer(50%), which drops the cost of flying overall by 30%.  Secondly, their training and experience are excellent relating to flying people with a disability around Australia.  The only problem I've had is with a few baggage handlers that didn't know how to handle wheelchairs, and one suitcase being delayed.  Other carriers, such as TigerAir and Jetstar, are cheaper but do not offer the discounts.
Wheelchair Travel Tips #3 – Be prepared and have a list
Most of my suitcase is loaded with items required for the care of my health due to my disability, and I cannot afford to leave home these items.  They include incontinence items (overnight bag, wet wipes, pads, leg bags), medical items (medications, anti-inflammatory cream), equipment (slide board, CPAP machine, sheepskin, powerchair charger, spare tube and change tools).  Madie provided me with a list, and I entered it into google docs, and print it each time I pack and cross off the items as I place them in the suitcase.  So far I have remembered to pack everything required.
Wheelchair Travel Tips #4 – How to pack your suitcase and carry-on luggage
Using the list, I pack as many items as possible the day before and try to have a double of things of things I use that night, e.g. nasal decongestant so that they can be packed and also used that night.  In the morning I only have to pack about six items.  Half of the contents of the case do not get used on holiday, and their inclusion is if the unexpected happens.  I.e. a bowel accident.
I always wear a bum bag, which contains my wallet, mobile phone, keys, personal alarm and other items.  As luggage can go missing or experience delays, it is vital you carry some things yourself, such as reservations, medications and other items that are essential for your health and well being.
Wheelchair Travel Tips #5 – Plan your Toilet and Shower Care
Typically my ablutions occur every two days, and the time taken is around 2.5 hours, so the goal is to minimise the frequency of performing ablutions while on holiday.  It is advantageous to perform the ablutions before the first flight of the vacation, and I try to book flights around the middle of the day, and this allows me to wake up at a reasonable time.  When the flights are in the morning, I wake up at a silly time such as 4:15 am, as I did for the Brisbane concert and 5:30 am for the Sydney concert.
When away on short trips, I extend the ablution period to three days, and this allows two days of events in another city.  Flying time from Adelaide is as follows… Melbourne 80 minutes; Brisbane 140 minutes; Sydney 115 minutes.  It gives me around two days of having fun in another capital city, without having to be concerned with everything involved with my ablutions(day 1: a half day; day 2: a full day; day 3: a half day).  Some people say I am full of it, and they are correct when I travel :-).  I always fill the toilet bowl the day after I arrive home.
During my little holiday, I make use of a combination of 1) a bed bath 2) deodorant 3) keeping away from people.  There are times when I use the same underwear and track pants for the entire three days, as it makes life simpler, and I use more deodorant.  My spinal injury resulted in less body sweat, and I only perspire on the LHS of my head, and the RHS perspires when I eat spicy meals.  Less perspiration equates to less body odour.
Wheelchair Travel Tips #6 – Determine which wheelchair to take
Except for one holiday, I take my powered chair as it has some benefits including the ability to get around quickly and to pull my suitcase behind me.  Each year there is the need to get approval from Qantas Dangerous Goods, and each flight the permission needs to be printed and supplied during the check-in process.
Wheelchair Travel Tips #7 – Getting to the Airport and checking in
Previously I would book an accessible taxi, and the majority of drivers turns up on time, but occasionally they would turn up late and impact on our check in with Qantas.  Now I drive my VW transporter van to the airport, drop off my passenger and our bags, park my vehicle in the long-term car park (about $60 for three days), and "run' to the Qantas check-in.  Walkers can check in their bags automatically, but Qantas need to speak to me about my chair.  Rather than wait in a line, I approach a staff member and ask for advice about check-in, and typically they put me at the front of the business queue, as the wheelchair needs to get into the cargo hold, as passengers with mobility issues get on the plane first.
Wheelchair Travel Tips #7 – Security
As I cannot walk, and the wheelchair contains metal, I am unable to be scanned by the metal detectors, and the security personnel examine me differently.  They ask for permission to perform a pat-down procedure and then proceed to feel both legs, arms, chest and back.  Most of the time the chair is tested for explosives, and a mirror is used to look under the chair.  Only once have I been asked to pass my shoes through the scanner, and anything else I am carrying goes through the scanner.  Most airports have a priority lane, for wheelchair users and pregnant women.
Wheelchair Travel Tips #8 – Flight preparation
Earlier in the morning, I put on my "flight socks", which help prevent issues about blood circulation.  As walking to the toilet on a plane is impossible, and flying from Adelaide to the other capital cities is a few hours, a solution to gather my urine is vital.  I use an indwelling catheter, and the urine collects in a 500ml leg bag, and I attach the spare leg bag to my other leg.  The extra bag has a capacity of 1000ml, and so far I've not had to use it, as 500ml has been sufficient.  If the flight is longer, or the volume is excessive, the spare leg bag could be used and disconnected and taken to the toilet by the person flying with me.  I limit my fluid intake before and during the flight to assist, and in the 20 plane trips taken since my accident, I've not had to use the backup leg bag.
Wheelchair Travel Tips #9 – Boarding the plane
Wheelchairs are too wide to fit between the seats, so Qantas has an aisle chair, and I have named it the wobbly chair.  I place a slide board between the two chairs and slowly move across. The airline has developed a device called the "eagle lifter" which can lift the passenger from their wheelchair, onto the plane, and into their seat.  After using it a few times, I decided to transfer manually as I can do this, and the time taken is halved, and this helps get the plane off in time.  The eagle lifter is great for passengers with less mobility than myself.
The height of a plane cargo door is 80-84 centimetres, and most wheelchairs are designed to fold, and my chair takes about 2 minutes of preparation.  Previously the cushion would be removed, as it may fall off and find its way into the lost property, but recently I keep it on the chair, as the velcro is strong.  The removal of the two pins holding the back allows it to be folded down, and lowing the armrests occurs next, and the motors are disconnected to enable the chair to be pushed by staff.   The powerchair is taken away for loading, and I place a leg strap on my legs, to keep them together.
The crew push me from the terminal to the plane, and before I jump across to the seat, I instruct the staff to place something between the sharp metal piece that sticks out of the armrest and my back, to prevent a skin tear.  I shuffle across to the window seat, ensuring the seat belts are tucked out of the way first.  The same leg strap is placed on my legs again, and then a Qantas staff member goes through the safety features of the plane.
My power wheelchair is usually the last item put into the cargo bay, and now and then I record footage of the baggage handlers doing their job.  Not all baggage handlers know how to handle wheelchairs safely. There has been damage to the chair in the past. My wheelchair is my legs, and baggage handlers should respect this fact.  If the staff inside the plane damaged the legs of walking passengers, this would undoubtedly be the wrong thing to do, but there is no consistency.  Off we go.
Wheelchair Travel Tips #10 – During the flight
Every 30 minutes I check my leg bag, to see if I need to attach the spare leg bag, and I also move my legs up and down to increase circulation in the legs.  Every hour I push up from the armrests, to get my bottom off the seat, which helps to limit pressure sores on my bum.  I read a book.
Wheelchair Travel Tips #11 – After the flight
Passengers with mobility issues are always taken off the plane last, and it gives more opportunity to read my book, as well as record the baggage handlers unload my wheelchair.  After a delay of about 20 minutes, I jump onto the wobbly aisle chair, get reunited with my powerchair, and we head down to the luggage collection.  As we experience delays, our luggage is usually the only ones left on the carousel, which presents a problem, as anyone could take our bags.
Wheelchair Travel Tips #12 – Getting to the motel
The mode of transport depends on what is available, and most of the time I take accessible taxi cabs and make use of the South Australian Transport Subsidy Scheme (SATSS).  A book of vouchers arrives each year, and the subsidy level is 75% and put simply, I get a discount of $30 for each fare.  The fare is subsidised by the SA government and is used across Australia, and other states around Australia are not as generous, such as Victoria where the subsidy is only 50%.  A few drivers as they don't know the rules, and I pay them what is owed and leave.  They don't get a tip for being ignorant.  Other times I use public transport, such as the Skybus in Melbourne or the train in Sydney.
Wheelchair Travel Tips #13 – Preparation for the night
Always best to prepare for the night as soon as possible, and we layout my equipment, and later fall into bed due to exhaustion and pain.
The Midnight Oil Concerts
Click here to read about the concerts.