Tell me about sleeping with a SCI.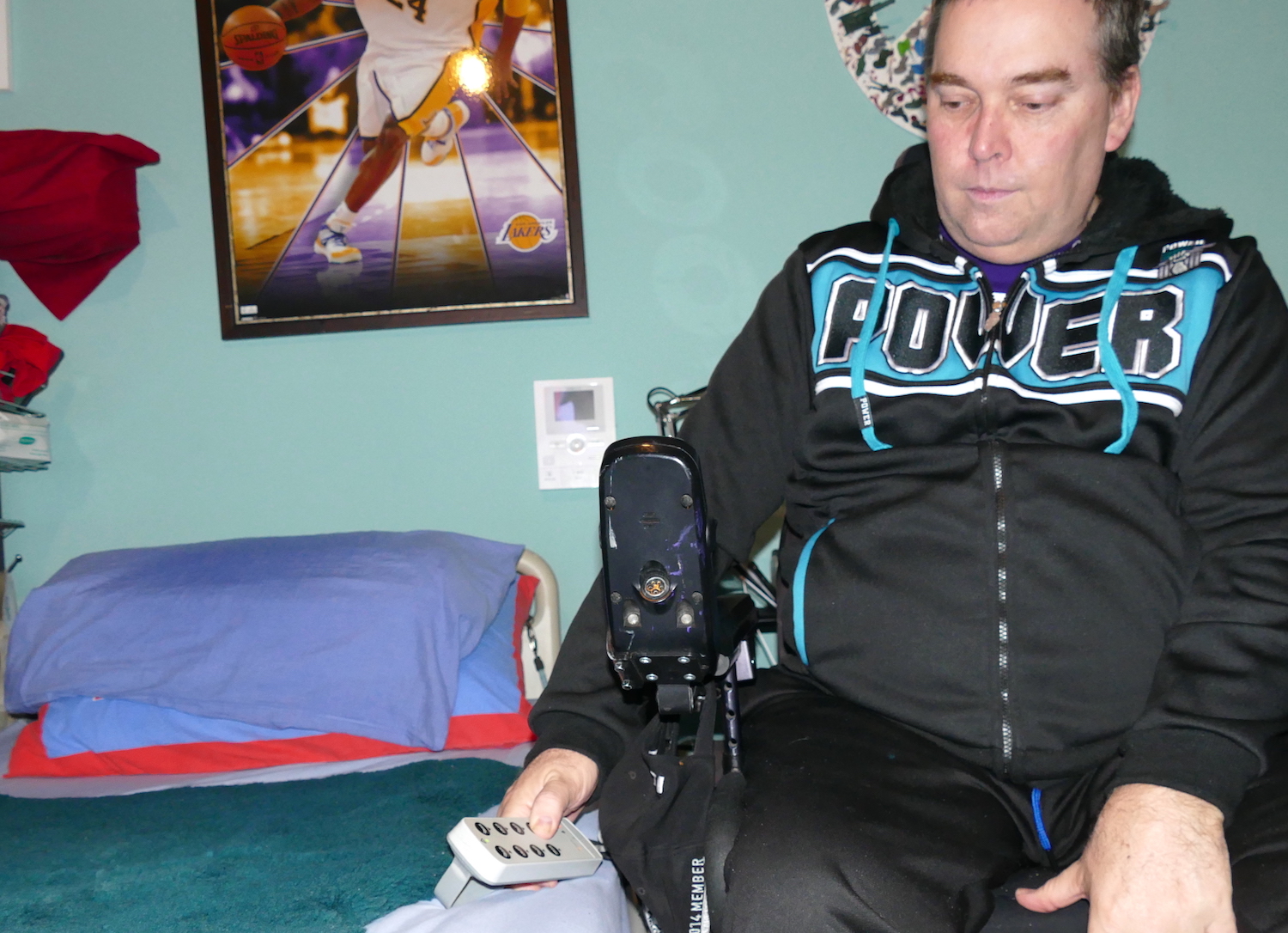 I am glad you asked the question, and the short answer is on my back, and the long answer is below. This is part 2 of the blog, please click here to read part 1. Altogether there are 19 SCI sleeping tips.
SCI Sleeping Tips #10 – GETTING INTO BED.
Safety is the number one goal when transferring, and I wear an RDNS pendant just in case I have a fall. Within a few seconds of activating the pendant, I can talk to an operator and arrange for help to arrive. (Alternatively, if someone else is home, they can grab the lifter and sling, and get me back onto the bed.) The first step is to move the wheelchair close to the bed and adjust the height of the bed, so it is just higher than the seat of my wheelchair. It helps to keep off the bed control cord and the tail of Spartacus the cat.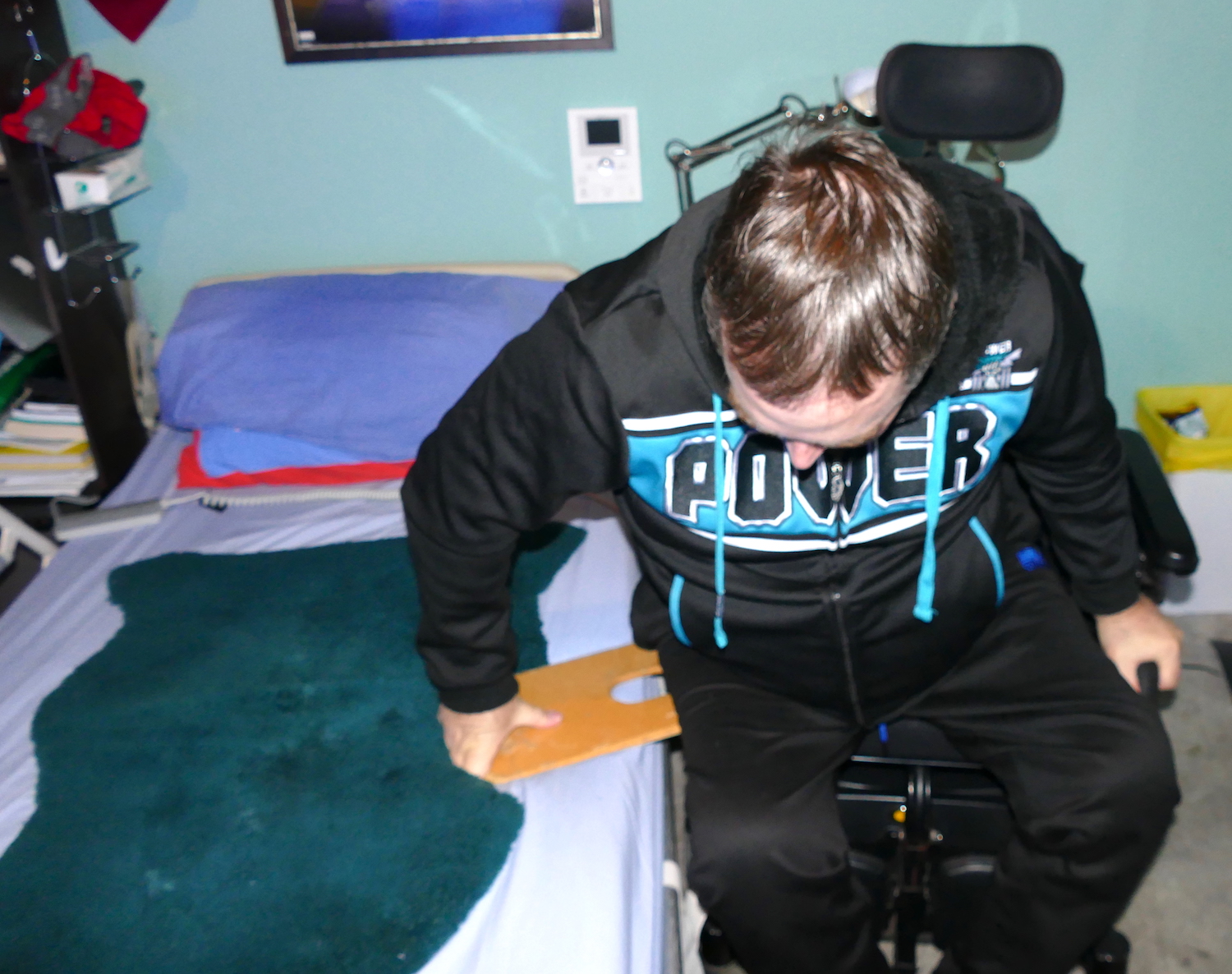 I move slightly forward in the chair and place the slide board under my bottom. Although the name of the board sounds as if I should slide across, the best method is to complete the transfer in a couple of lifts, and not slide across the board. This is better for skin management. I choose to use a slide board as I have never been confident with the process of transferring from one device to another.
When I am sufficiently on the bed, I hold onto the rail with my right hand and lift my right leg onto the bed by grabbing either the socks or pants. The left leg up is also lifted onto the bed. The slide board is removed, and I close the railing.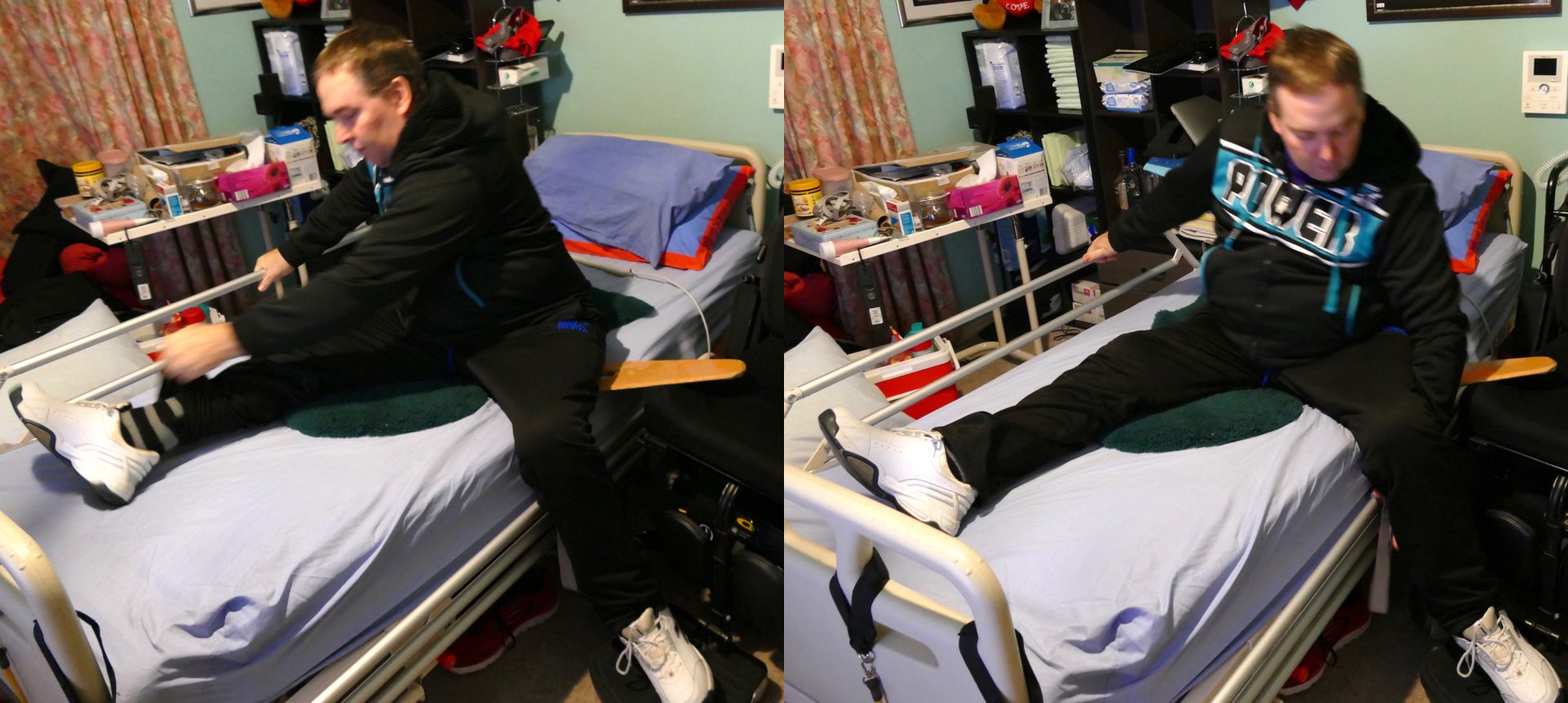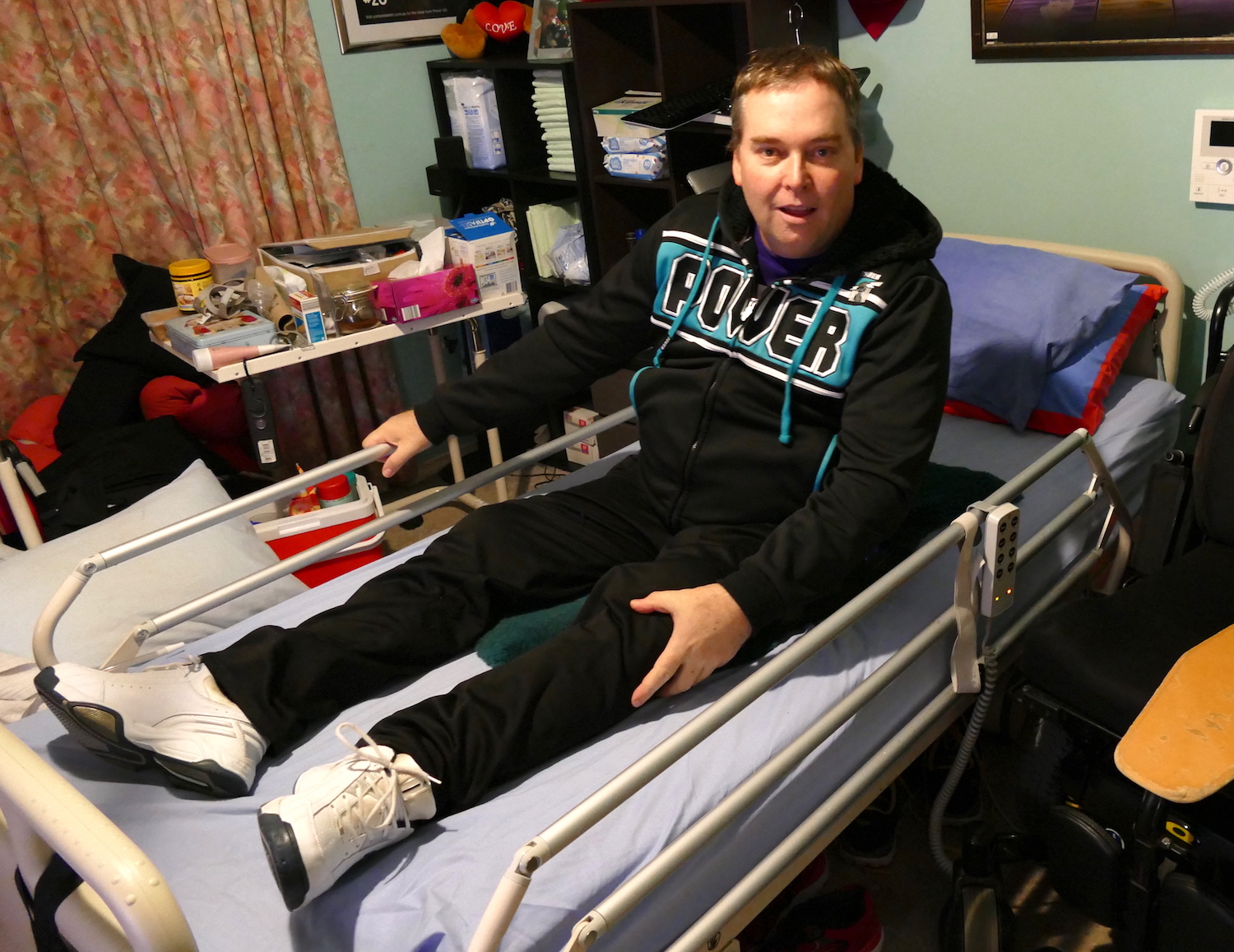 SCI Sleeping Tips #11 – UNDRESSING.
The next step is to undress, commencing with shoes and socks. Yet another reason to lose weight, so my abdomen doesn't get in the way! There are no photos showing how I remove my tracksuit pants and underwear, however, I can describe the process. Commencing with lying down, I roll from one side to the other, gradually moving the garments downwards, until they are sufficiently low, and then sit up and remove them both. I place a towel over my lower half, which stays in place all night.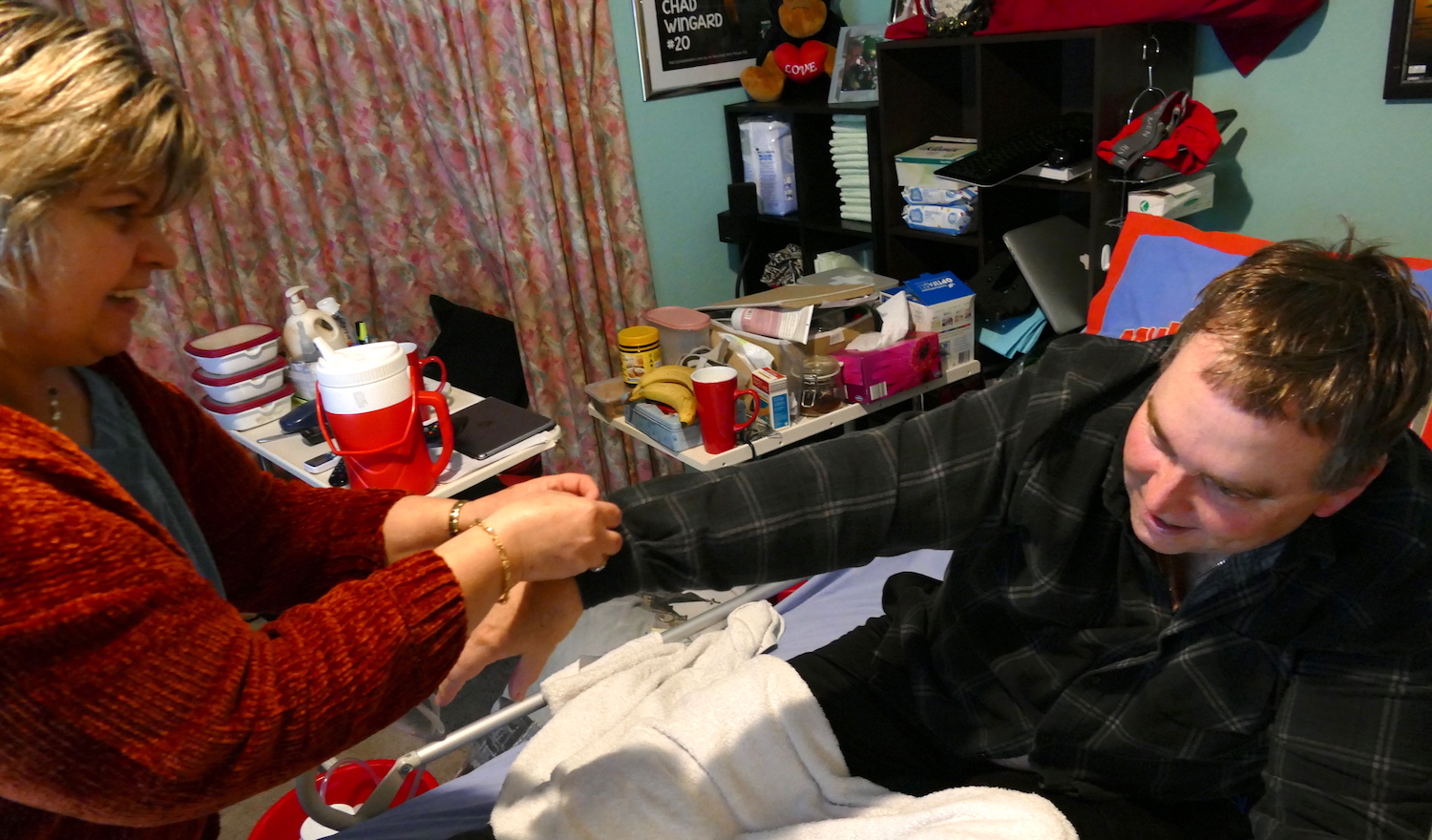 SCI Sleeping Tips #12 – DRESSING.
As it is winter, my room can get quite cold, and I dress to stay warm, starting with a long sleeve shirt. Although I have full functionality with my hands, I have problems with buttons, and Madie loves to help. A few years ago, I was experiencing pain in my hands during the night, and SA Health diagnosed me with arthritis, although my hands showed little swelling. The doctors prescribed two types of medications to help with my arthritis. However, the problem continued, and one night Madie wrapped my feet with 'Betty Boop' – a baby blanket. Immediately the pain in my hands disappeared, and I stopped taking the drugs. The solution was simple and effective – keep my feet warm. Betty was replaced by slippers and long warm socks.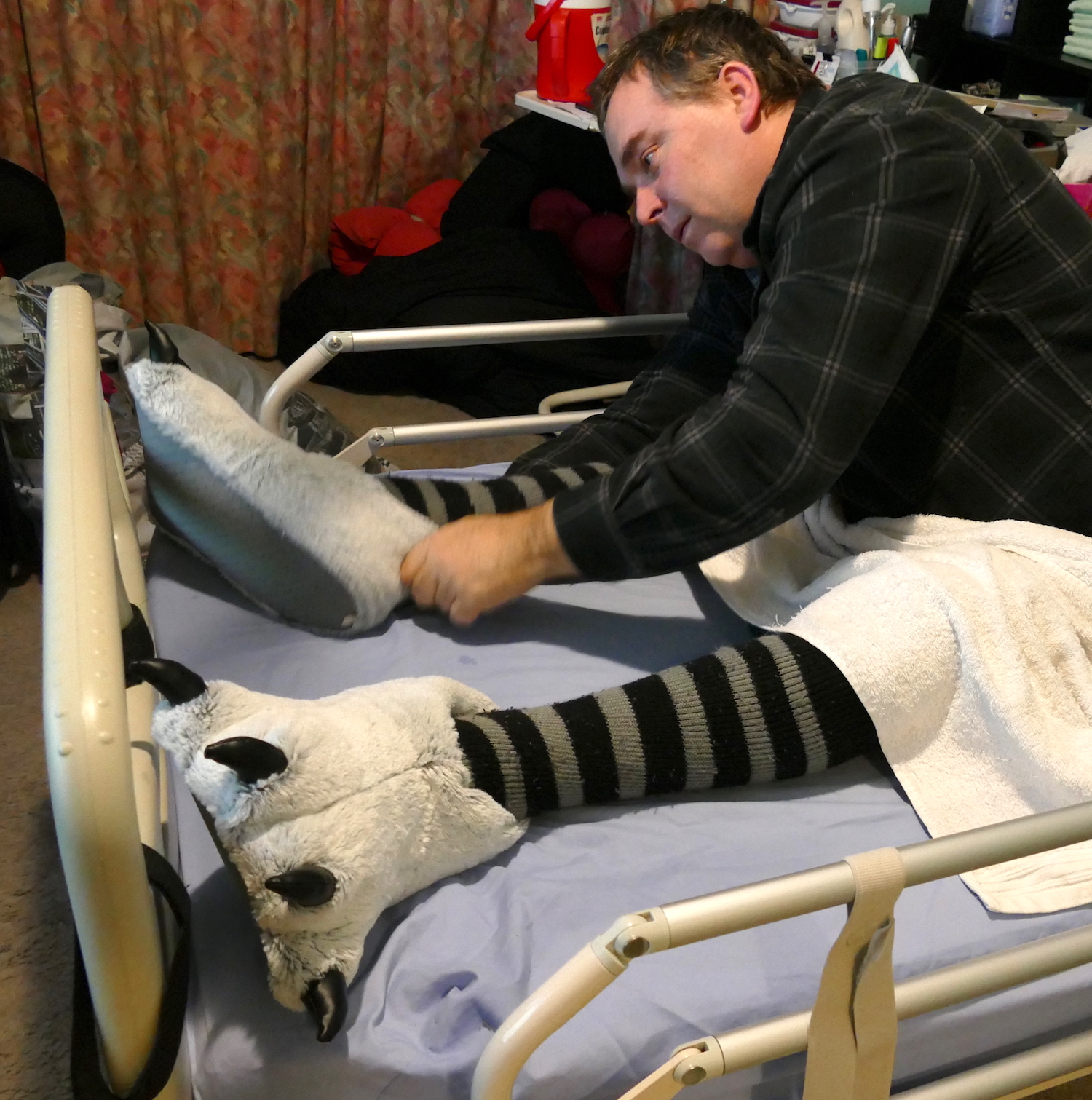 SCI Sleeping Tips #13 – LEG AND FOOT SKIN CARE.
Proper skin care is vital, and pillows are placed under my knees, and I ensure that there are no wrinkles in the linen, to prevent marks being made on my legs.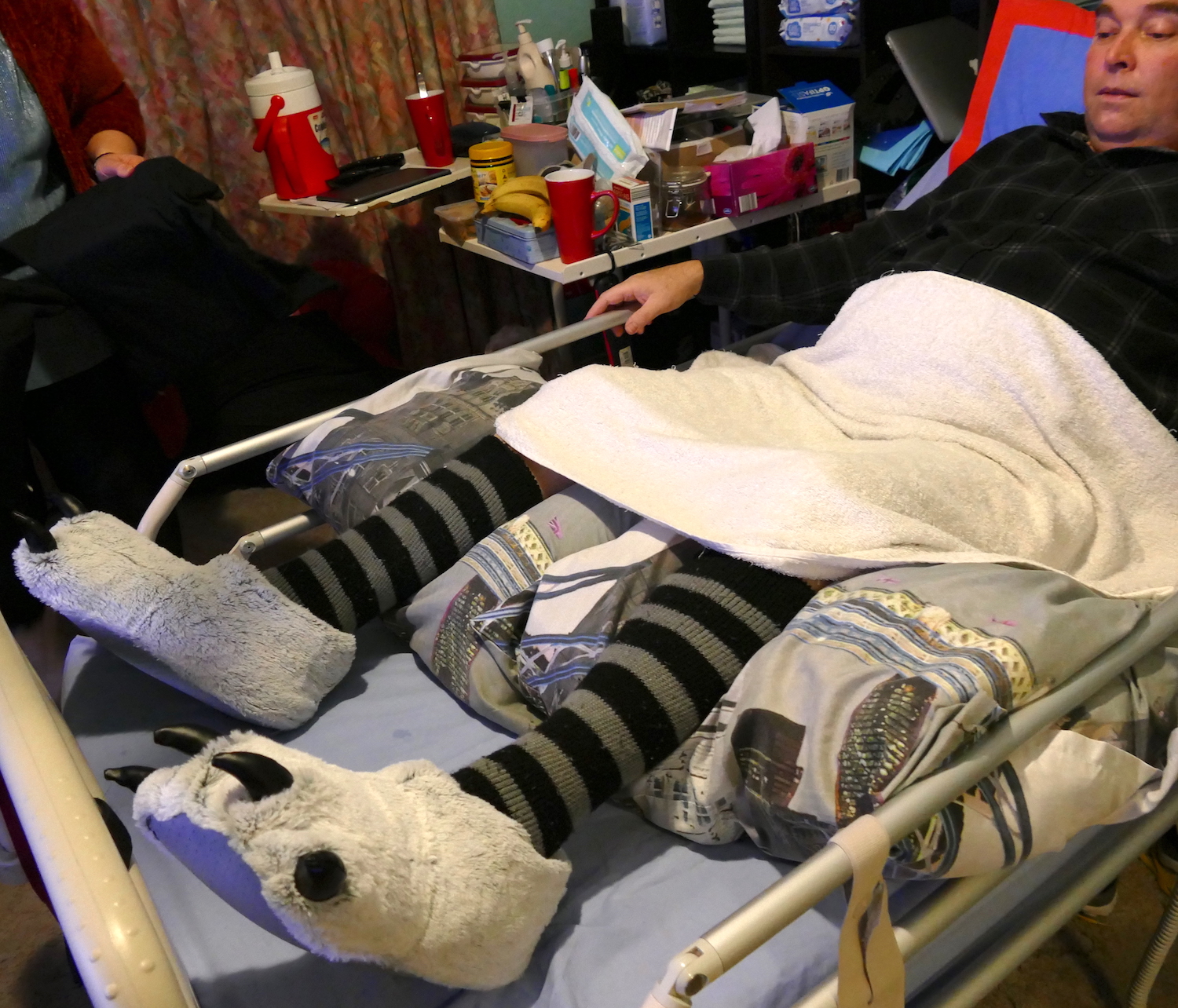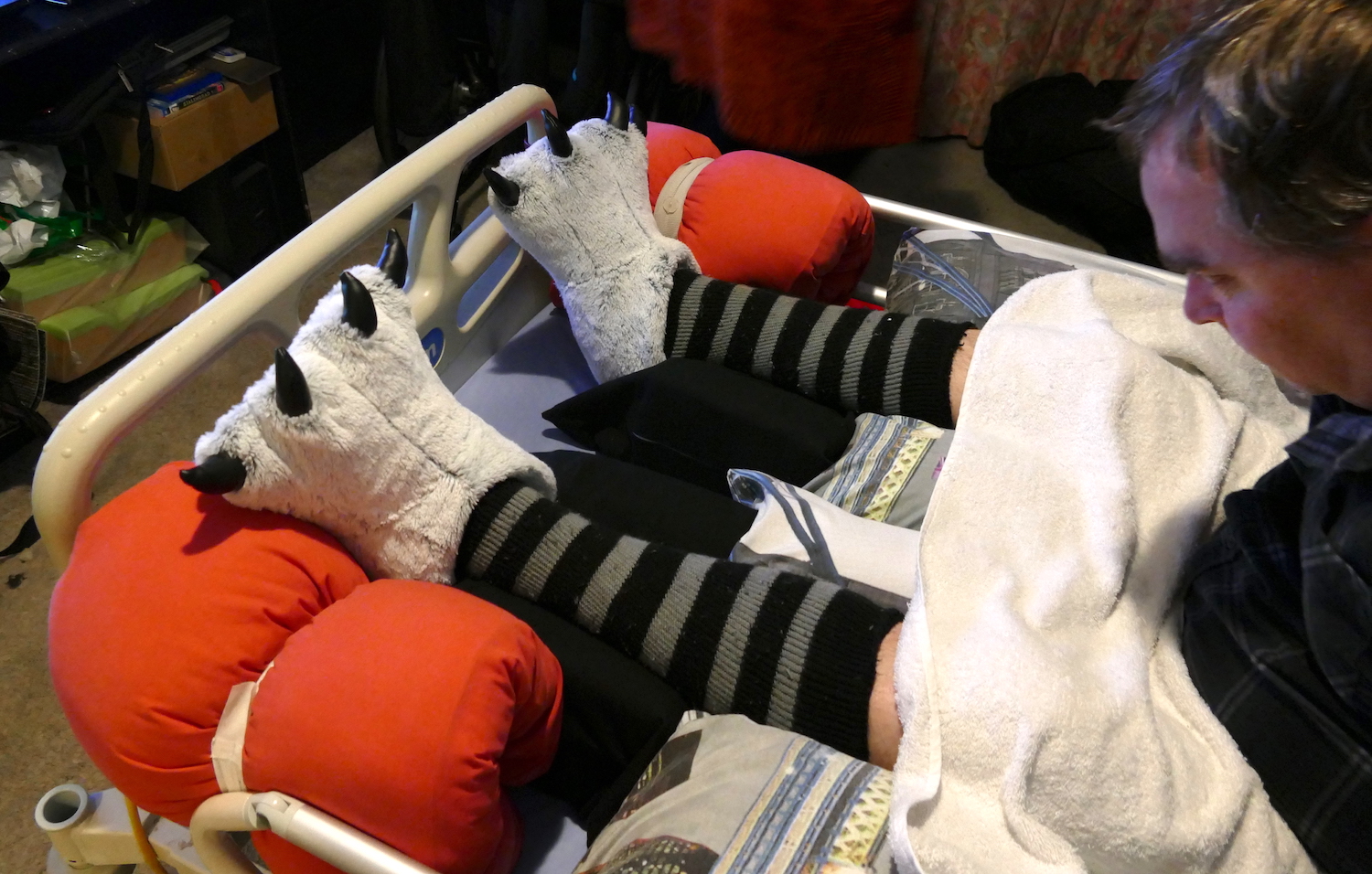 Two small cushions are placed under my lower legs, and two rolled up pillows are placed either side of my feet, and they keep my feet pointing to the ceiling. If the feet are not supported and hang loose, this puts stress on the knees.
A sheet and doona are placed over me, and the overbed table is placed into position. Recently, I've been drinking protein drinks at night time to assist in the healing of my pressure sore. The prescription drugs are removed from the secure location, and I swallow fifteen of them – almost another meal!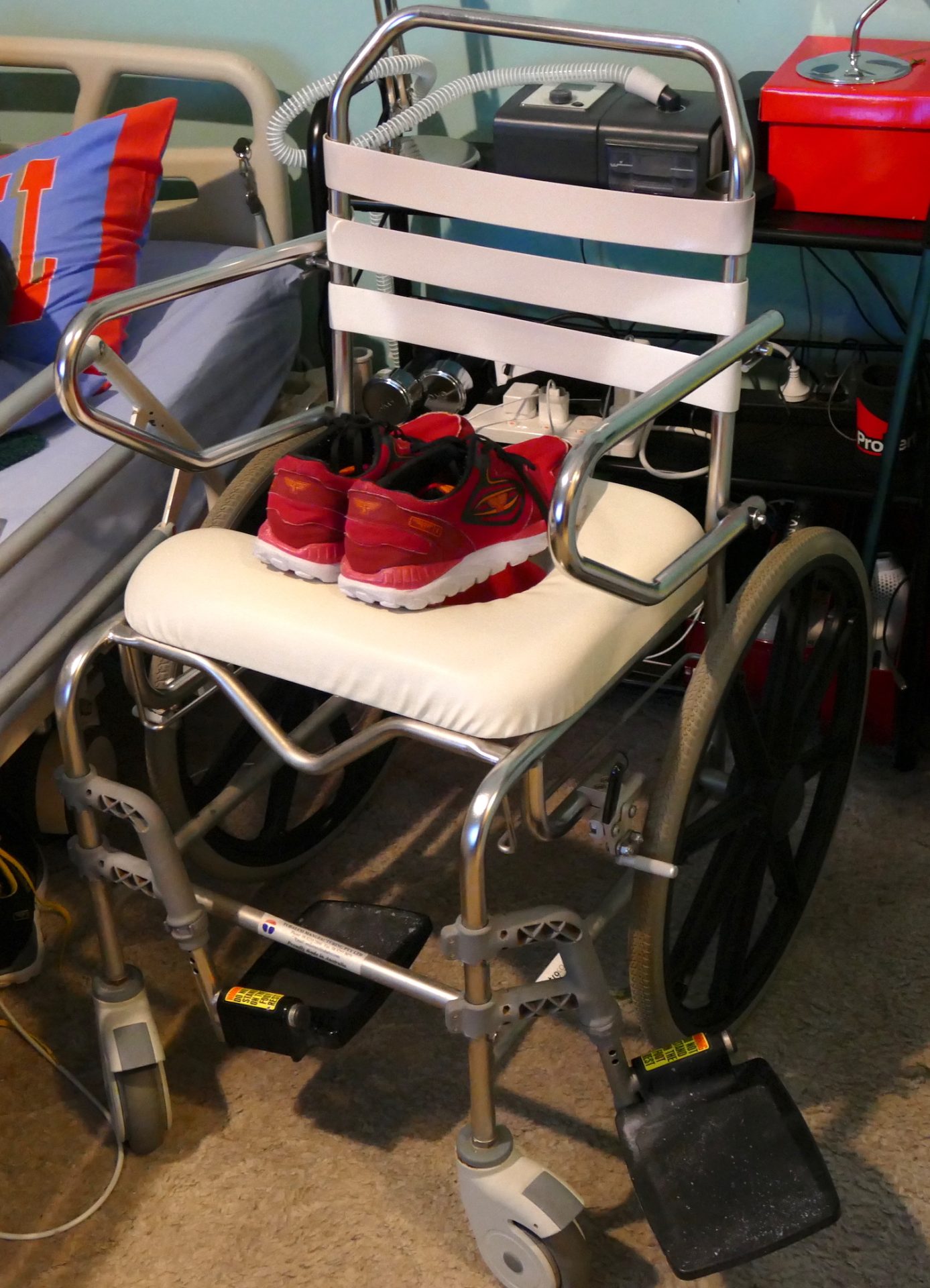 SCI Sleeping Tips #14 – SHOWER CHAIR.
Every 2nd morning I go to the toilet and shower, and the chair and the shoes I wear are placed next to the bed, and my power wheelchair is charged, and my manual wheelchair is placed in my bedroom. The shoes help with the transfers between the chair and bed, and they protect my feet as the plastic footrests are hard on the feet.
SCI Sleeping Tips #15 – URINATING DURING THE NIGHT.
I have an indwelling suprapubic catheter, which connects my bladder to the outside world via a hole below my belly button, and this attaches to a 500ml leg bag. A 4-litre bottle and a connecting tube are washed with bleach before use, to kill bacteria, and I connect the leg bag to the connecting tube of the bottle. During summer and after exercising late I am able to fill up the entire four litres!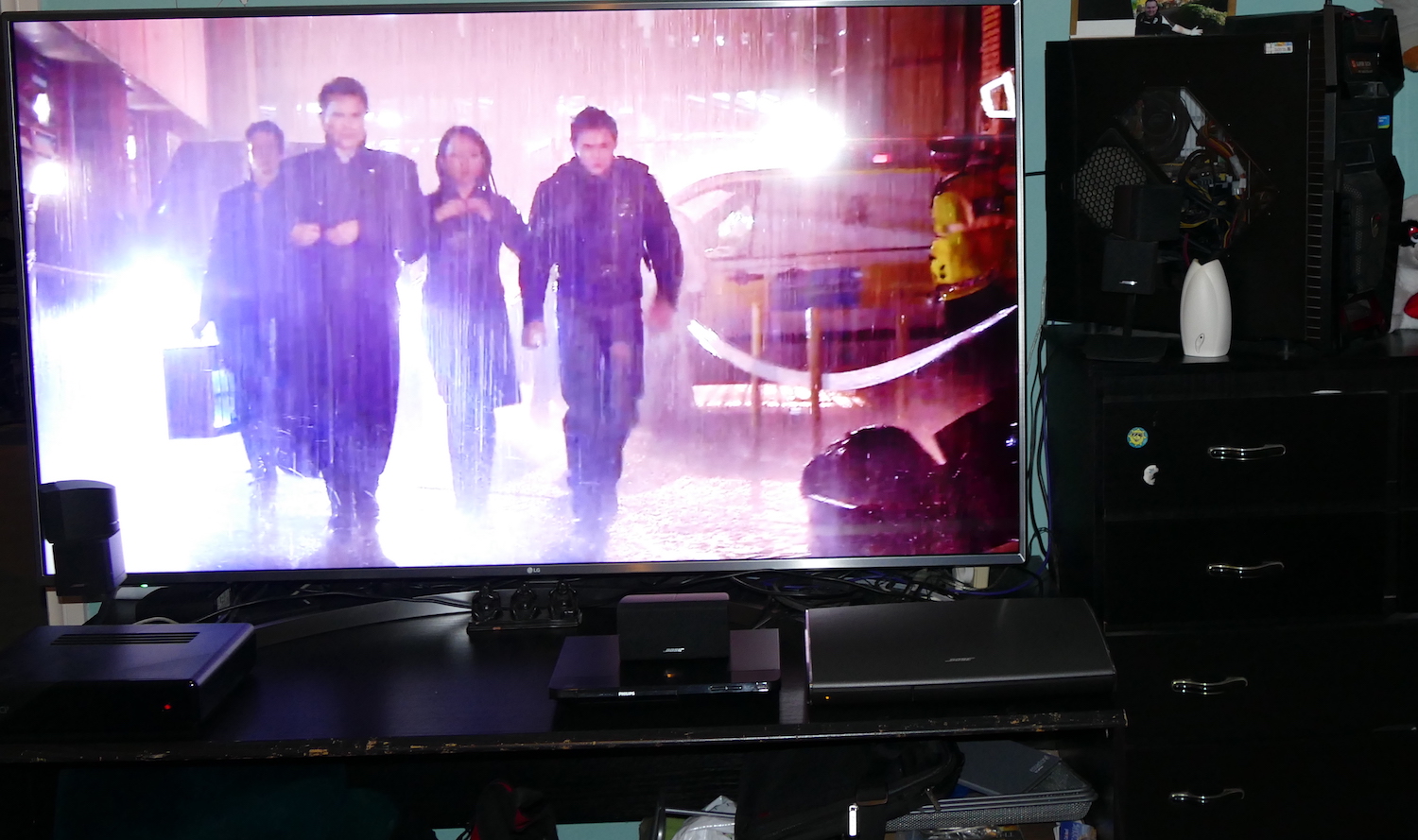 SCI Sleeping Tips #16 – WORK & ENTERTAINMENT.
Due to chronic pain, I spend a minimum of 12 hours in bed, and on bad days, I could spend up to 18 hours there. To get work done (such as paying bills, or writing my book, or blogging etc.) I use a 15″ Mac Book Pro. Entertainment is covered with a Bose Lifestyle V35 surround sound system, blu-ray player, PC for games (Steam, Origin and MS Store), Foxtel IQ3, a 70″ TV that connects to Netflix, Steam and Plex (Media server with over  1,000 movies). No need to ever leave the bed!
SCI Sleeping Tips #17 – SLEEPING.
To help my left golfer's elbow, and reduce pain during the night, I perform exercises with the dumbells. Then rub Voltaren Emulgel on it, and place it in a compression sleeve. A pillow is placed where the spine curves inwards to reduce pain, and I swap to a thinner head pillow. As I was diagnosed with sleep apnea, I put my CPAP mask on my head, and connect to the machine. A quick check that my water is within reach and my leg bag is draining well, and the lights go off, and I attempt to sleep. I stay in the same position until the morning. On a typical night, I would drink water around six times. Having a pickup stick is handy for those items that fall onto the ground.
SCI Sleeping Tips #18 – ISSUES DURING THE NIGHT.
So far, I've had no issue that I couldn't manage myself. In case of emergency I have the option of 1) mobile phone 2) RDNS pendant 3) intercom 4) handheld speaker horn 5) apple watch (sends emergency SMS to 4 contacts).
SCI Sleeping Tips #19 – VIBRATING CUSHION.
The cushion is stored under the bed, and the next morning I place it under my lower legs. The circular motion helps improve blood flow in the legs and feet.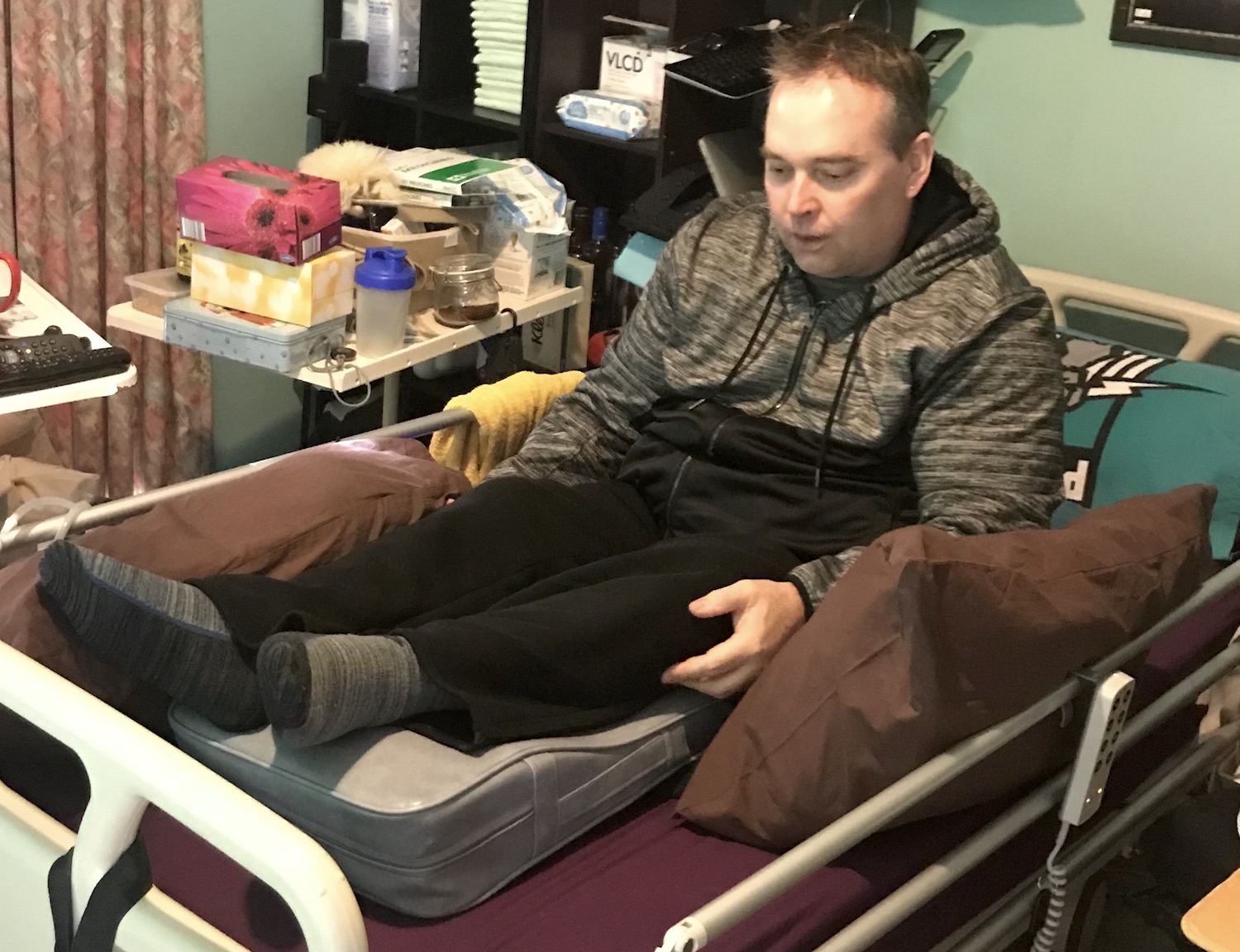 Every now and then I walk in my dreams. Click here for the site where I purchase my medical sheepskins.