Safework SA prosecution commences.
(This blog is part of a series of seven blogs. Please click here to commence reading at the first blog.) Safework SA is the government body required to investigate accidents that occur at workplaces. Their website is located here. If necessary they prosecute the employer at the Industrial Relations Court. The workplace and employer were Cedar College.
Victim Impact Statements.
The Safework SA investigator asked my family to write victim impact statements, and they included…
John 'When I think of these consequences on my wife and children, it makes me cry;  My social activities are almost zero due to the pain which limits how long I can sit in the chair;  I am very disappointed with the response from Cedar College.'
My wife 'For three weeks the staff in Intensive Care could not guarantee that John would come out of this alive and his state of health went up and down quite a lot over this time; I am still full of anger, bitterness and resentment over what has happened. I was I feeling angry and really wished I could take some form of retaliation at the school.'
Jasmine 'That made me so sad and angry because I knew that he could have died on any of the days he was in ICU; Dad is in pain. Every, single, day. It kills me. I pray all the time.'
Ben 'I was almost hit by the tree. I saw it happen from a meter away on the news the principal said they already had safety protocols for windy days . . . Bullshit;  I spent almost an hour crying in the principal's office; I can't go camping now or ride my bike with him or go to the beach with him.'
My dad 'Grief, shock and distress at what happened.  I was walking behind John and initially thought that John was dead and I stayed with John while a number of people who were attending to his medical state. Continue to be worried about the future of John and his family. His life has been ruined and  I am still having sleeping troubles'.
My mum 'Very stressed and worried; Continue to be worried about the future of John and his family. His life has been ruined'.
I am not the only victim.
The process of writing the impact statements was difficult for my family. It made me realise that I wasn't the only victim and Ben's statement hit me hard. He was almost hit; saw the aftermath; made a comment about the TV interview; and shared the reality of having a disabled Dad. As I was collecting the statements, my father said it would have been better if the tree hit him. Given his age, I don't think he would have survived. Safework SA made a decision to prosecute Cedar College, as there was sufficient evidence that they could and should have done more to ensure adequate safety, both before and on the day of the accident.
The school advised their intentions to plead guilty which came as a surprise, as it contradicted their previous statements to the tv reporters and the parents via newsletters. I stayed home in bed as my pain levels were too high, and watched reports on all commercial television stations.
Channel 10 evening news on 25th November 2011.
Adelaide Advertiser reports on the SafeWork SA prosecution.
The Adelaide Advertiser newspaper covered the story and repeated the words of the tv interview.
.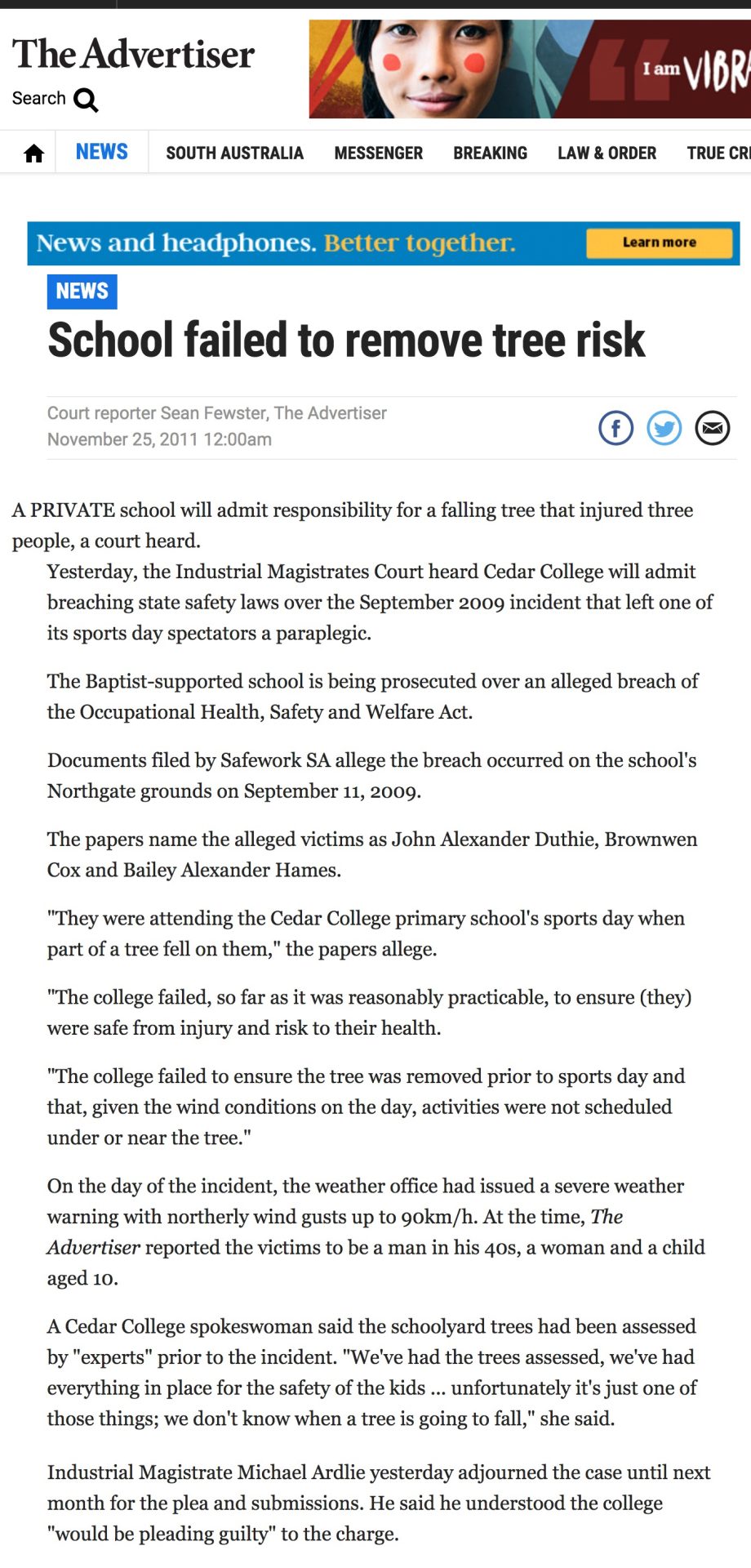 My angry letter to Cedar College and CityReach Baptist Church.
The school showed its public face at the Safework SA hearings and continued to hide their private face from me. I shared my disappointment on Facebook. Possibly, a parent of a student contacted the school to make a complaint.  I received both a phone call and a letter from the principal, which explained the reason for the lack of visitation. It would be inappropriate to share the details, and I can share that I immediately forgave him for failing to visit me during my 16 months in the hospital. However, someone else in a leadership position at the school or church could have visited me. And this could have been organised by those unable to see me. There were many other avenues of communication too. I wrote an angry letter to both the school and the church and it included…
'I have included the (victim impact) statements and would ask you to read them, so you fully understand the impact of the incident. I accept your decision to not visit me in the hospital, however, your only contact with me has been a letter, written so long after the accident, and written in reaction to my Facebook status update.
There are many various forms of communication these days, and it should have been easy to phone me (either at the hospital or home), or write letters, or send emails, or visit me at home or the school or a 3rd party location.  I find the quantity and quality of the communication to me to be woefully inadequate, given I was almost killed and severely injured on the grounds of the school, and that the school had failed to adequately ensure my safety.
The financial assistance provided by the school and the church have been a few hundred dollars, gift baskets, flowers and a few terms of free schooling.  I have been passing disability expenses to the school for about 12 months now, and my disability costs have totalled about $25,000, and I've been reimbursed nothing.
The behaviour after the accident doesn't appear to be matching the teachings of Jesus. Jesus was always quick to speak out against poor behaviour, and therefore I do the same.'
Later it became clear that multiple times the school asked my wife if I required help. Although the question should have come directly to me, I wondered why my wife never passed the questions onto me. The reason became clear around March 2012 and will be shared in blog #6.
An internet news site reports on the SafeWork SA prosecution.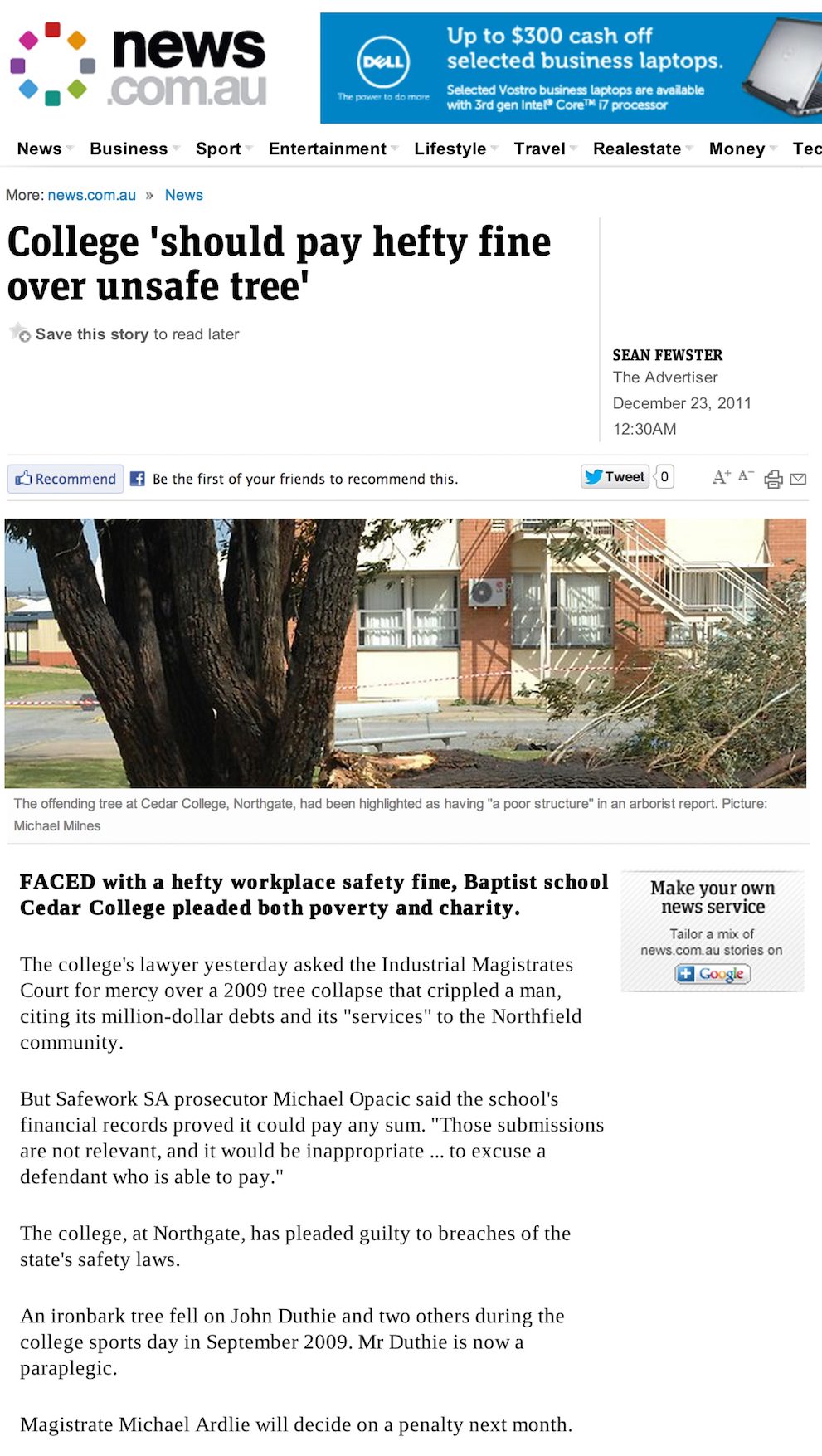 Click here to continue reading