Wheelie Good Cruises introduction
Wheelie Good Cruises promises 'Hassle-free cruises for people with a disability'. And I've heard that they deliver on their promise. The best person to know about cruising with a disability is a person with a disability. 
Wheelie Good Cruises is owned by Robert De Pasquale, who has Spina Bifida and Hydrocephalus. Apparently, he has been on cruise holidays for over 25 years.
The Poll with a silly question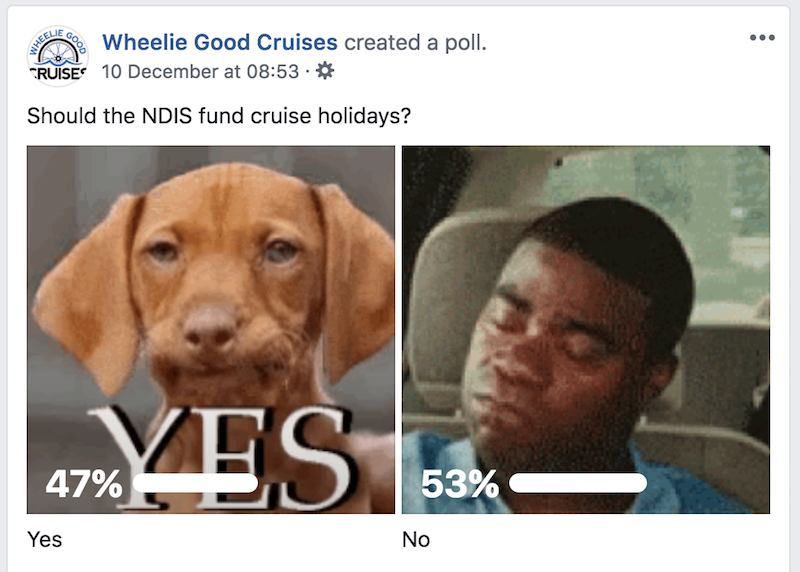 Robert created a poll with the question 'Should the NDIS fund cruise holidays'. The NDIS has already said they would NOT pay for the cost of the cruise for the person with the disability. Why should they? Many taxpayers cannot go on a cruise, so why should the NDIS fund them? I agreed with the reply by Gyl. If the PWD requires a carer during the cruise, then this should be covered by the NDIS.

Companion Card in Australia
In Australia, the National Companion Card Scheme helps eligible people with a disability. The PWD can attend events at venues and activities without having to pay for the cost of the ticket for the carer. At some stage in the past, the PWD had to pay the cost, unless the venue decided not to charge. 
The idea of the scheme probably started with one person. Why doesn't a similar scheme exist for cruises?
Asking Wheelie Good Cruises about the scheme
Robert and I chatted privately, and I challenged him to be the person that pushes the idea of a 'disabled cruising companion card'.
Possibly asking the person that collects fees from cruise sales was the wrong person to ask. And they may get a bad name with the big cruise lines for pushing the idea? The PWD still needs to cover the cost of a carer on a cruise, unless magic happens, and it is covered by NDIS.
Hopefully, another person in the cruise industry can pick up on the idea, and help eliminate the need for some PWD to pay the double fare.
Read about my experiences in a court that wasn't accessible.