Disability Book Project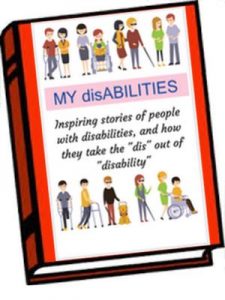 'MY disABILITIES' is a disability book project commenced by John in 2017. It will be a 250-page compilation of the lives of over 25 persons with a disability or disorder. After reading one disability book after another of individuals dealing with life, John considered most were not sharing how the disability affected their lives. And, unless you were already well known, you had little chance of being published.
The book will 'Encourage people with a disability, and to increase the knowledge and understanding of disability in the community'.
In addition, the book will
Share the challenges, experiences, stories and insights of people living with a disability or disorder
Encourage other people going through similar experiences
Increase community understanding
Support those sharing their stories, and the organisations that help them
Share the proceeds of the book with team members
In addition to people contributing their stories, the project found people to write, proofread and edit the book. The book will be published in the first half of 2019. All team members share in the proceeds of the book project, however, John is donating his time. Please visit the site here. The following are examples of chapter synopses…
'Living with a 'New Normal' by Julie Rackebrandt about Emma Rackebrandt.
Emma's story is about facing and accepting a sudden and unexpected cancer diagnosis at the age of 19. Emma worked hard to maintain her self-identity and independence, and to improve her functional ability in a wheelchair, even though her progressive and degenerative disease meant that all gains would be temporary. Emma was creative, accepting and adapting to her 'new normal' many times so that she continued to enjoy life as her abilities changed and declined. Emma's story highlights her positive moments and interesting experiences, while navigating through the world in a wheelchair with paraplegia, and later, an acquired brain injury. Her mother, Julie, writes Emma's experience in retrospect as Emma passed away at age 25.
'Behind closed doors' by Melinda Jones
We all walk our own journey in life, with no one really knowing the truth of our disabilities, and what we experience day to day behind our closed doors. Melinda has Neurofibromatosis Type 2 with ongoing tumour growth in the brain and spine, and she writes about the daily and constant pain, suffering, loneliness, lack of self-esteem, heartache, bullying, and depression. Despite this, Melinda has achieved a great deal, battles on in the face of all the difficulties, and makes the most of life. Her love of life is what has always driven her to success.
'Navigating Intersections' by Jasper Cleland
Jasper explores the challenges in life, which for him include being a deaf-blind transgender person and cult survivor. His journey from being deprived of access to information as a young person living in a highly restricted environment to self-discovery and self-awareness is compelling and mind-boggling. Jasper shares his experience of finding a community he can belong to, and his plans for a future that might just surprise you.
The Documentary
Sponsors
The book project is looking for sponsors to help with the costs of editing and publishing. Please contact John here.