Disability Book Project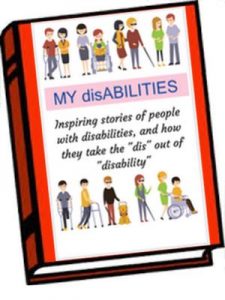 'MY disABILITIES' is a disability book project commenced by John in 2017. It will be a 250-page compilation of the lives of over 25 persons with a disability or disorder. After reading one disability book after another of individuals dealing with life, John considered most were not sharing how the disability affected their lives. And, unless you were already well known, you had little chance of being published.
The book will 'Encourage people with a disability, and to increase the knowledge and understanding of disability in the community'.
In addition, the book will
Share the challenges, experiences, stories and insights of people living with a disability or disorder
Encourage other people going through similar experiences
Increase community understanding
Support those sharing their stories, and the organisations that help them
Share the proceeds of the book with team members
In addition to people contributing their stories, the project found people to write, proofread and edit the book. The book will be published in the first half of 2019. All team members share in the proceeds of the book project, however, John is donating his time. Please visit the site here. The following are examples of chapter synopses…
"Living my 'New Normal'" by Julie Rackebrandt about Emma Rackebrandt
Emma's story is about facing and accepting a sudden and unexpected cancer diagnosis at the age of 19. Emma worked hard to maintain her self-identity and independence, and to improve her functional ability in a wheelchair, even though her progressive and degenerative disease meant that all gains would be temporary and at times lost. Emma was creative, accepting and adapting to her 'new normal' after each setback so that she could continue to enjoy life as her abilities changed and declined.
Emma's story highlights her positive moments and interesting experiences, while navigating the world in a wheelchair with paraplegia, and later, an acquired brain injury. Her mother, Julie, writes Emma's experience in retrospect as Emma passed away at age 25 in 2016
"Deaf, Blind and on the Catwalk" by Vanessa Vlajkovic
Vanessa's story is about her journey to become a model, despite having only 20% sight and inconsistent hearing. It tells of the isolation she experienced during mainstream schooling and the challenges she faced as a teenager who wanted her independence, but had overprotective parents. It speaks of the challenges in learning sign language at age 16. But most of all, it shows us how she became her own advocate and smashed the barriers that stood in her way.
"Behind closed doors" by Melinda Jones and John Duthie
We all walk our own journey in life, with no one really knowing the truth of our disabilities, and what we experience day to day behind our closed doors. Melinda has Neurofibromatosis Type 2 with ongoing tumour growth in the brain and spine, and she writes about the daily and constant pain, suffering, loneliness, lack of self-esteem, heartache, bullying, and depression. Despite this, Melinda has achieved a great deal, battles on in the face of all the difficulties, and makes the most of life. Her love of life is what has always driven her to success.
"Struggling with Faith" by John Duthie
If John graphed the level of his Faith over time, it would resemble a sine wave. On September 11, 2009 the graph was at its lowest point, and a tree hit John, paralysing him from the chest down. This was followed by 16 months in hospital, and he experienced chronic pain and separation from his wife. Throw in a suicide attempt, and then things changed, including his level of Faith. The story shares the journey from a hopeless situation to having hope for the future.
"High-Viz Happiness" by Michael Kuhn and May-Kuan Lim
Wearing a yellow high-visibility vest, Michael is packing dried pig's ears into bags. His supervisor says, 'The good thing about Michael is that he is always happy.' Indeed, when you meet Michael, you become more cheerful yourself – as if happiness could be infectious – and you almost forget that he has an intellectual disability. His mother, Kathleen, says, 'Michael has a gift for making friends. I wouldn't do that; I would have to think about it before talking to someone. So sometimes I think it is not a disability; it's just different, you know?'
The Documentary
Sponsors
The book project is looking for sponsors to help with the costs of editing and publishing. Please contact John here.