Life.
Life doesn't always adhere to a plan.
At age 44, John was hit by a tree; died; was paralysed from the chest down; died again; developed syringomyelia and associated severe pain; betrayed by a friend; went through separation and divorce; attempted self-harm.
Bad things happen in life. The important outcome is how you respond to the circumstances forced upon you. John has done ok, but it took time, effort, resilience and Faith in God.
Swimming.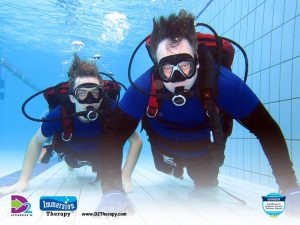 The photo is of John, Ben (his son), and John underwater at an immersion therapy session with Determined2. John's bottom-of-the-pool record stands at 32 laps of a 25-metre pool.
Before his accident, John could only swim two laps and now can swim over 40 laps. His goal is to swim the equivalent of the longest Olympic swimming distance of 1,500 metres, which is 60 laps of a 25-metre pool.
This site.
This website shares a few insights into John's life, including:
John's three most recent posts (from his blog site WheelchairJohn.com)