The 'Eighteen Point Five' book project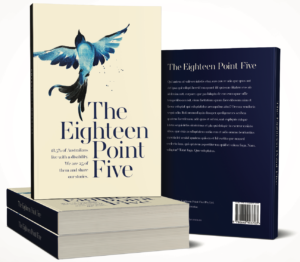 The book 'Eighteen Point Five' was published on the 25th of September 2020. It can be purchased by clicking here or on the book.
John ran projects and lead teams in several organisations. He was working for SA Police at the time of his accident. In 2017, he completed reading twenty-five books about people living with a disability. A question popped into his head…
'Why are biographies only written about famous people?
He wanted to publish a book of twenty-five stories of unknown people with varying disabilities or disorders.
John commenced a book project with the name 'MY disABILITIES', as it was better to focus on abilities, instead of disabilities.
He used his team leadership and project management skills to benefit PWD (people with disabilities). John contributed and wrote the chapter 'Struggling with Faith'. The synopsis provides a summary of the chapter.
If John graphed the level of his faith over time, it would resemble a sine wave. On the 11th of September, 2009, the graph was at its lowest point, and a tree hit John, paralysing him from the chest down. This was followed by 16 months in the hospital, and he experienced chronic pain and separation from his wife. Throw in a suicide attempt, and then things changed, including his level of Faith. The story shares the journey from a hopeless situation to having hope for the future.
How to run a book project and publish a book (for dummies?)
The HUGE problem was the lack of knowledge about book projects and publishing. It was a big learning curve, and he decided to recruit team members first, and worry about the 'how' later! John created a website and did a little marketing and received applications to join.
John selected a variety of disabilities and disorders and recruited people with writing skills from writers centres around Australia. There are over forty team members.
The 'Eighteen Point Five' has been published on September 25, 2020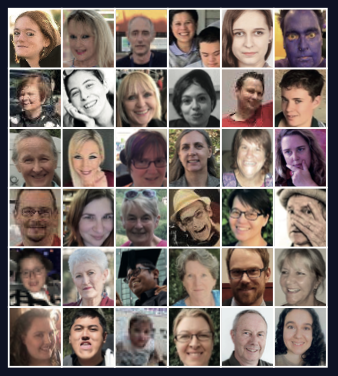 It took around two years to get to the point of being ready to publish. At times, it was like herding cats, but John kept going, and many team members gave up.
The image to the left is part of the back cover of the book. It contains thirty-six members of the larger team.
In The Eighteen Point Five, twenty-five people share their personal and deeply honest experiences of living with disabilities and disorders.
The stories may shift your thinking and clear up misconceptions.
The contributors hope to inspire and encourage readers living with similar disabilities and disorders, sharing insights, challenges and achievements.
And John is pleased with the book. He hopes you are too.
Visit the site here.
Alive and not Kicking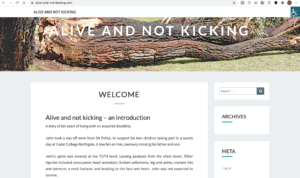 A few months after John's accident, he started gathering his thoughts for his memoir. As his memory was affected, he continued to record events, so they would not be forgotten.
John wanted to publish the book during 2019 – the 10th anniversary of the accident. However, life can be busy, such as building a new home and the Eighteen Point Five book.
Writing his memoir is an ongoing process, and the new goal is to publish later in 2021 or early in 2022.
Visit the book website here.
Stories of life
Tabor College in Adelaide has published the book for a few years now. The book is a compilation of stories of Faith, and John contributed a chapter to the following books
Click on the book covers, or the links, to purchase the books.
More information about John's writing, publishing and book project management can be found on the Australian Society of Authors.