Published works
The books published most recently are listed first.
Spartacus the Cat is a true story of a nine-month-old kitten finding his way to the front garden of a family in Gilles Plains in April 2016. The kitten was homeless and hungry and sat at the home of the Duthie family, as Jasmine's cat, Ginger, looked well-fed and thought he could get a feed.

Ben found the cute kitten and called him Jeff and quickly learned trust was an issue through many hisses, scratches, and bites. Jeff's name was changed to a more suitable name - Spartacus, and it didn't take long until Sparty trusted the family and started sleeping on their beds.

The cat has a great sense of humour, giving the family, including father John often laughed because Spartacus was funny.

John wrote the book and created illustrations with the help of a few AI bots. The illustrated book is suitable for children aged ten and under.
John ran projects and lead teams in several organisations. He was working for SA Police at the time of his accident. In 2017, he completed reading twenty-five books about people living with a disability.

A question popped into his head…

'Why are biographies only written about famous people?

He wanted to publish a book of twenty-five stories of unknown people with varying disabilities or disorders. John commenced a book project with the name 'MY disABILITIES', as it was better to focus on abilities, instead of disabilities.

He used his team leadership and project management skills to benefit PWD (people with disabilities).
Tabor College in Adelaide has annually published a book with stories of living as a Christian for a few years now. John contributed a chapter to the book 'The Swimmer and other stories of life'.
John contributed to the book' Papa's shoes and other stories of life'.
John contributed to the book 'Three Dummies in a Dinghy: and other Stories of Life'.
Alive and not Kicking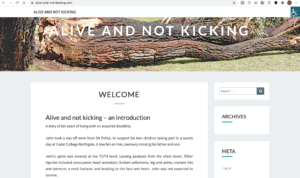 A few months after John's accident, he started gathering his thoughts for his memoir. As his memory was affected, he continued to record events, so they would not be forgotten.
Writing his memoir is an ongoing process, and the new goal is to publish it in late 2023.
Visit the book website here.
More information about John's writing, publishing and book project management can be found on the Australian Society of Authors.