Which John Duthie?
You have reached the personal website of John Duthie. Not the famous poker player. The other famous John Duthie.
In life, things often don't work out as planned. Commencing at age 44, John was hit by a tree; died; paralysed from the chest down; died again; developed syringomyelia and associated severe pain; betrayed by a friend; went through separation and divorce; attempted self-harm.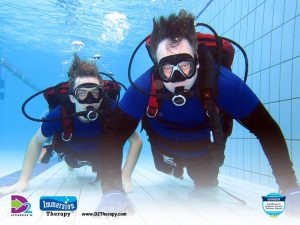 Bad things happen in life.
The important thing is how you respond to the circumstances. Good things can happen as a result of the bad times. John has done ok, but it took time, effort and resilience. And more.
The photo is from an immersion therapy session with Determined2, where John's underwater record is now 32 laps. His swimming record, on the surface of the water, now stands at 42 laps. Before his accident, he could only swim two laps!
This website
This website shares a few areas in John's life, including:
John would love to hear from you by contacting him directly here, or by leaving comments on the various posts on this site.
John's three most recent posts