Introduction to accessible ten pin bowling
I received an invitation to attend an accessible ten pin bowling game at Zone Bowling, Woodville SA. As our group consists of people using wheelchairs, the organiser, does his job well to ensure safety and accessibility at locations. However, the onus is on the organisations providing services to the public to ensure safety and accessibility that adheres to the Disability Discrimination Act.
The DDA makes it illegal for providers of services to discriminate against a person because of their disability. One avenue of discriminating is to provide facilities on less favourable terms and conditions. Therefore, I should be able to go ten pin bowling and access the services at Zone Bowling in a similar way to people without disabilities. Before I arrived, I looked at the website and discovered that Woodville Bowl was recently re-developed and was hopeful that my experience would be good. Their website mentions the following information.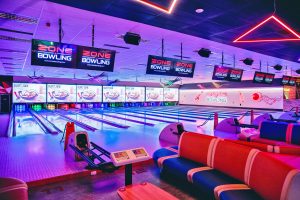 Timezone & Zone Bowling Woodville is NOW OPEN with an AWESOME new upgrade, including the addition of a brand new TIMEZONE! The only Timezone in South Australia! Inside you'll find:
Upgraded Bowling area
New-look Laser Tag arena
Updated Cafe & Bar, with a selection of cocktails
All-NEW Spin Zone Bumper Cars
All-NEW Timezone arcade with over 80+ games
Massive prize shop
Updated ambient and family-friendly space
Unfortunately, their website doesn't provide information about accessibility and bowling. I can understand why they've left this feature off their website, as Zone Bowling didn't adequately take into account accessibility during their redevelopment.
Accessible ten pin bowling at Zone Bowling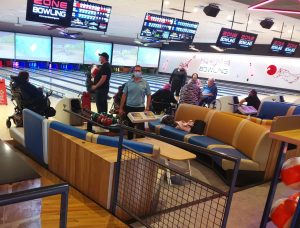 The group of about twelve people using wheelchairs enjoyed our experience and were grateful that we could take part in 10 pin bowling. Unfortunately, there were plenty of accessibility issues and a few safety issues. I finished my two games and I started taking photos to share the issues, many of which should have been considered during the recent redevelopment at Zone Bowling in Woodville, South Australia.
Safety Issues at Zone Bowling
Accessible Toilet – the door closed extremely fast and hit the door frame with a loud noise. Anyone with fingers near the frame would be injured (the door also listed under accessibility issues)
Accessible Parking – The parking provided required me to extend the lifter of my van into the car park. Australian accessibility parking standards use bollards in between car parks for safety, that allow PWD to exit and enter their vehicles without concerns about movements of other cars
Visual warnings at steps – the rear entrance didn't have noticeable warnings of steps (such as the yellow colouring seen in the background of the photo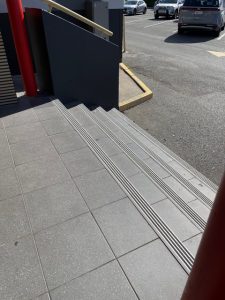 Fire escape – had a small step that may cause issues for some people in wheelchairs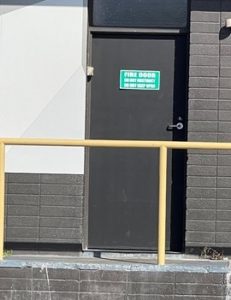 Accessible ten pin bowling at Zone Bowling
Those attending Zone Bowling at Woodville are able to bowl without assistance from the staff or other people. They select the ball that best suits them, retrieve the ball after it is returned from the lane and observe the scores. When they've finished bowling, they return to the seating area and eat, drink and chat with their bowling friends. And they can do it safely.
However, I'm describing the bowling experience for people that are not using wheelchairs, as bowlers in wheelchairs are not able to do these things. We took a few photographs to share the experience with you.
Cramped bowling experience – as bowlers in wheelchairs can only access the bowling approach area, we felt cramped for room. We continually had to get around other bowlers, and although the centre was mostly empty apart from us, Zone Bowling Woodville wouldn't allow us to book every 2nd lane.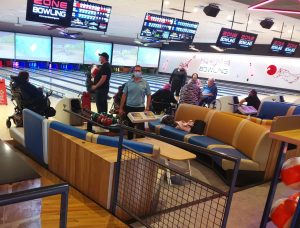 Unable to select suitable bowling balls – The redevelopment appears to have prevented the selection of balls from one side of where the balls are stored. And the other side is inaccessible to wheelchair bowlers due to steps. We had to ask for help to find the right balls and the person who helped me had to find seven balls before I found one that fitted my fingers.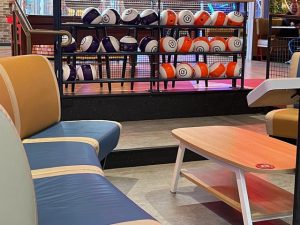 Unable to find a ball with the best finger size and weight – Bowlers in wheelchairs typically use a lighter ball, but all of these balls have small finger holes. As the redevelopment appears to have included the provision of new balls, Zone Bowling at Woodville hasn't allowed for adults to use lightweight bowling balls. Bowling from a wheelchair using the heavier balls can be unsafe, and my right arm ached for a few days.
Unable to reach our balls after each bowl – As the return area is mostly located behind a step, we were unable to retrieve our ball for the next bowl.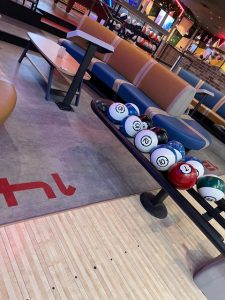 Unable to see scores safely – As the screen is close to the step, this presents a safety problem bowling in wheelchairs. The photo shows the view of the screen from a wheelchair.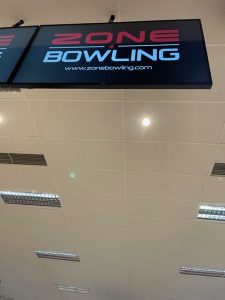 Solutions to the accessible ten pin bowling issues at Zone Bowling
The redevelopment at Zone Bowling in Woodville should have included the services of an occupational therapist to ensure safety and accessibility for PWD. Or they should have included the thoughts of a group of people in wheelchairs. I spotted the issues within a few minutes.
Now, the solution is to raise the seating area to the same height as the bowling area. Bowlers in wheelchairs will then have the same bowling experience as everyone else. As the facilities are provided on less favourable terms and conditions to PWD, this is a violation of the Disability Discrimination Act.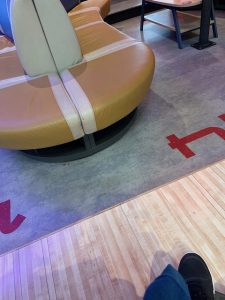 My attempt to contact Zone Bowling
I sent a message to Zone Bowling on their website and asked them the following questions.
where can I find information about accessibility at your bowling centres on your website? And in particular Woodville SA
what is an email address I can send my photos and make suggestions about accessibility at Woodville SA?
with the recent upgrade at Woodville SA, was an occupational therapist involved with the changes to ensure good accessibility for all people?
The reply came promptly and mentioned the following.
Thank you for your enquiry all our Zone Bowling locations are accessible for disabilities as we host bookings daily for disability services
We do not really have some of the specific information you are requesting but you can see good photos of the venue here. (they provided a link to photos)
You are always welcome to come into the venue and talk to the staff members
Unfortunately, head office only answered my first question, and it seems they believe their facilities are accessible. I don't doubt their beliefs, but how would they know about accessibility if they've not spoken to an occupational therapist or people with disabilities? I'm sure the staff members are helpful, but accessibility and safety issues should be brought up with management directly.
It is likely accessibility and safety are issues at the majority of the Zone Bowling centres, and I plan to visit a few more and then contact the Australian Human Rights Commission to lodge a complaint. This blog isn't just about my bowling experiences from my wheelchair, it may be the start of accessible bowling for everyone using a wheelchair at Zone Bowling centres. I will contact Zone Bowling again and share my blog, and ask if they are intending to improve accessibility and safety at their centres.
Please share your experience with bowling and accessibility. Read more about my blog here.