Westfield accessibility – introduction
This blog concerns wheelchair accessibility in the Westfield Tea Tree Plaza store. As I've been taking my powered chair there since 2013, I've not experienced problems until recently.
The Scentre Group has interests in and operates the Westfield shopping centres in Australia and New Zealand. A total of 41 centres with over 11,500 retailers. My closest centre is Tea Tree Plaza at Modbury, South Australia. Ever since I received my Malvern Star dragster bicycle, I have been a regular shopper at TTP. I now drive my VW Transporter, find an accessible car park, and unload myself in my powered wheelchair. Never do I take a manual chair, as its a shopping centre, and I shop and need the powered chair to help carry the items.
Web info
I thought a good place to start is the Westfield TTP accessibility web page. This would give information about accessibility in the centre, including the accessible car parks and toilets. Having a disability and having to plan ahead come hand in hand. No luck, as it only mentions that wheelchairs are available to hire. Their parking page mentions accessible parks but doesn't show their location.
I checked the 'alt tag' of the images displayed on their site, and they were empty. This tag, if used, provides a description of the image, and is used by PWD that have vision impairments. Although I don't have this disability, I thought I would check.
Westfield accessibility – car parking
As Westfield don't share the locations, I will share my experience of finding an accessible car park. As the main retail section of TTP was closed, it was easy to locate a park in the vicinity of the new restaurant area. The Australian and New Zealand standard, AS/NZS 2890.6-2009, sets the minimum space requirements. Each space should be 2.4 metres wide and 5.4 metres long, with an additional width of 2.4 metres to one side of the car park. This allows PWD (people with disability) to place a wheelchair next to the vehicle. Typically, two parking spaces share this additional space between themselves, and a bollard is placed to prevent drivers from taking this space.
The majority of the TTP parks adhere to the standard, but a few locations do not when it comes to the space between accessible car parks. In the photo, my van is parked to the right and my lifter is fully extended on the ground. I barely had sufficient room to exit and enter my vehicle, and I parked as far right as possible. If the car to my left was five centimetres closer, I couldn't park there. Besides, there is the risk of having the driver's side of my van damaged, and their passengers may not even be able to get out of their vehicle.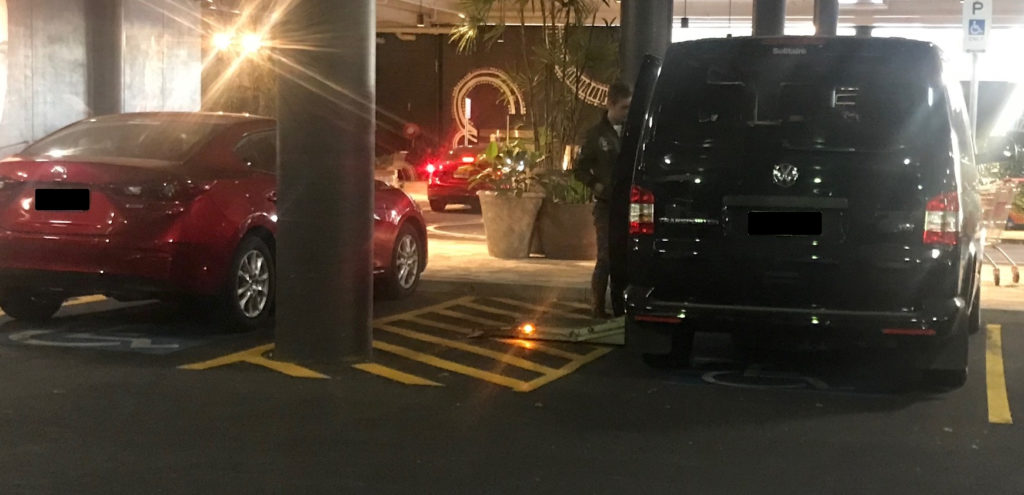 The centre map
The centre map, when first opened, is zoomed out, and only shows the essential facilities that are required by visitors once they are inside the centre. They include lifts, escalators, ATMs, parent's room, and male and female toilets. Accessible toilets do not appear without zooming in. It would be helpful if they were visible when the page opens, along with all the other essential facilities. Visitors can then zoom in to find the stores.
Westfield accessibility – the accessible toilets
Level 2 has a 'U' shape with four areas of restrooms and two are accessible. Level 1 has an 'L' shape with three areas of restrooms and two are accessible. Possibly four out of seven isn't enough as the shopping centre is large, and the distances may be too far to push. I'm ok as I always take a powered chair when shopping. The four available facilities are adequate with plenty of room for wheelchair maneuverability. They are well maintained and regularly cleaned.
Changing places
My toileting needs are simple and I simply open a leg bag and can be finished within a few minutes. Not only is this quicker than half of the visitors to the centre, but I am also able to get it done without taking a friend :-). Other PWD may require a 'changing places' facility, as they need a change table and a hoist. There are only eighty-five such facilities in Australia and the numbers are growing. They are in publicly owned areas, rather than shopping centres. The PWD who need these facilities, and their carers and families are getting out and about more often. There is only one facility in South Australia. If Westfield could roll out the facilities, one per centre, commencing at TTP, it may encourage other private companies to do the same.
Westfield accessibility – getting around the centre
There are two lifts that adequately transfer people with mobility restrictions from one level to the other. The escalators don't have steps and one day I will try them out in my wheelchair. Until I test them out, please take the lift. All of the surfaces are completely flat and they present no barriers to wheelchairs, apart from the new restaurant area (see below).
I am yet to find a shop with TTP that doesn't allow sufficient aisle space for wheelchair accessibility. However, the majority of the clothing retailers don't want people in wheelchairs to try on clothes before purchasing. Rather than having every clothes retailer lose floor space and install a facility, the bigger retailers and/or Westfield could provide a few change rooms. A system to track the items for security purposes would be required.
Westfield accessibility – new restaurant area
The area adjacent to the Hoyts Cinemas was recently redeveloped and a large number of restaurants introduced. I've found it a great place to watch a movie and eat a meal, having eating recently at Cafe Primo, Grill'd and Schnitz. Unfortunately, it is also a place that puts a strain on your wheelchair and shakes wheelchair users about. Either the pavers or the concrete base isn't flat, and taking a wheelchair over the pavers, is similar to driving a car on a corrugated unsealed road. It didn't matter what speed I travelled, the result was the same. The experience was uncomfortable and increased the pain levels in my back.
I attended a lunch with eight other PWD in wheelchairs, and all of them were of the same opinion as myself. Their comments included 'uncomfortable', 'bumpy', 'dangerous', and one person mentioned the pavers were already in use at Marion. How is it possible that these pavers could be selected when they are obviously not suitable for wheelchairs? And why hasn't someone else in a wheelchair reported the issue to Westfield? It seems the people who selected the pavers didn't take into account the comfort of PWD, and there are too many PWD in wheelchairs that accept poor accessibility. I don't, and I approached the Scentre Group about the problem.
Contacting customer care
The response from the Retail Experience Manager from the Scentre Group was fantastic. The best response from any organisation I have contacted about accessibility. The pavers wouldn't be replaced, and I wasn't expecting this to occur, as it would be expensive, and it would interrupt the businesses operating in the precinct. They passed my comments onto their design team for future projects. They invited me to their design and planning team for future projects and asked that I provide further feedback about the whole centre. Hopefully, the various topics I've brought up in this blog will be taken into account, and some changes made.
If you find a problem with access at Westfield Shopping centre please let me know. My email address is found on this page.