In remembrance of Joyce Dorothy Duthie
My mother, Joyce Dorothy Duthie, sadly passed away on Monday 4th of May 2020 at age 96. This blog shares memories of her life, taken from the funeral held on Wednesday 13th May 2020. This blog shares the
Memorial Card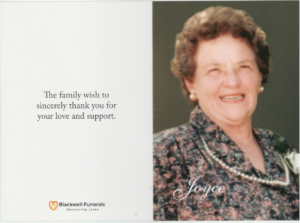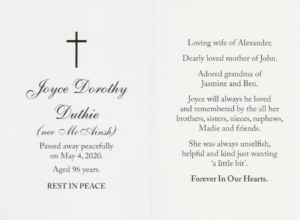 Welcome – Doug Oakley
Hello, my name is Doug Oakley and I'm a civil celebrant.
We're here today to give thanks for the life of Joyce, to celebrate her life.
Joyce Dorothy Duthie was 96 and, in terms of years, had a pretty good inning, which can give some degree of comfort, but I'm sure it still doesn't take away the sense of loss and our deepest thoughts go to you all, especially Alex together with John and the wider family.
Thank you to friends who've joined us…for your support. I'm sure that support is being given by others who are not able to be with us, especially because of the restrictions brought on by the Corona Virus.
The life of Joyce Dorothy Duthie – Doug Oakley
Joyce Dorothy Duthie was born into a far different world than the one we know today. To put it into some sort of perspective, I looked up an Advertiser, dated Sat. November 10th 1923 [Joyce's actual birthdate] and I discovered, on the front page, in a sale at Birks [now David Jones] suede gloves on special for 8/11 [89 cents] a pair. At Moore's, in Victoria Square, I could have bought a pair of men's socks for 8/11 [89 cents] in the Real Estate section on page 4, there was a house for sale in Prospect for 1,150 pounds.
Haven't the times changed and Joyce would have seen so many changes and different events throughout her life.
More importantly, there are the memories you have of Joyce.
I think it was about 5 years ago when John asked his mum a few questions about her life. And, in that exchange, she shared how her proudest moment was the day that she married Alex…while her biggest achievement was bringing up John and caring for Jasmine & Ben. One of her most challenging moments was when John had his accident in 2009 while, on a far lighter note, some of her funniest moments came when Alex was driving in a harness race. Joyce used to get so nervous that she'd have to go to the toilet…and she'd miss the race!
It's an obvious conclusion that family was so important to Joyce.
She was born in Adelaide on November 10th 1923, one of 9 children for Harold [b. 1891] & Hettie McAinsh [b. 1893]. Incidentally, they married in November 1916 during the days of WW1. The children, in order of age, were Arthur, Nell, Bill, Joyce, Betty Mary [died at 4 months], Margaret, Lesley Donald, Douglas, Joan Marjorie & Robert John.
Joyce grew up in Olive Street at Prospect [between Churchill & Prospect Roads] where the family operated a dairy. It's hard to imagine milking cows in this part of Adelaide but that's what they did…and the milk was then delivered to the people in the area.
They were a good, hard-working family and, not only that but whoever turned up on Saturdays and Sundays, would be welcome to share in the roast prepared by Hettie. Joyce cooked a pretty good roast too!
Because they lived at Prospect, it was only natural that they all barracked for North Adelaide in the football. Two of Joyce's brothers-Robbie & Dougie had played for the Roosters. I suspect it was a bit difficult for Joyce when she married into a Port Adelaide family. And she did make the switch to the Magpies with her favourite player being Russell Ebert. There are still newspaper clippings highlighting Port in her spice cupboard. She later followed the Power although she still had a soft spot for Collingwood.
As a young girl, [as was the case with many families of that era], Joyce went along to church 3 times each Sunday.
Joyce did her schooling at Nailsworth and, was generally well behaved…except for the day when she spent the money for her bus fare on lollies and she had to walk home!
In her younger days, Joyce played basketball [now netball]
When her school days were over, Joyce worked for Sharples, a printing company on Hindley Street [next to the Victoria Hotel].
One day, Joyce met Alex at the Adelaide Railway Station and, over time, they got to know each other as they travelled on the same line with Joyce getting off at Dudley Park and Alex continuing on.
Obviously, the friendship developed as they did a lot of walking around the North Adelaide area, going to the Piccadilly Cinema or, perhaps, heading out for a feed of fish & chips.
Joyce & Alex were married at the Brougham Place Methodist [now Uniting] Church in North Adelaide on February 10th 1951. Joyce continued to work and this included doing babysitting for friends…that is until John came along in 1965.
When Joyce & Alex first got married, they lived in Marian Place at Prospect. Later on, they lived across the road from Prospect Oval before shifting to Marden into their brand-new home in the mid-60s. It remains the family home.
Joyce did enjoy her getaways with Alex [and John when he was younger]. She particularly liked to go to Victor Harbor and Mildura. And she also enjoyed the trips with Alex & John to Sydney & Melbourne.
A few days ago, Alex was looking in one of the drawers at home and there it was! It was John's school jumper [well, part of it] for his first year at primary school. It was something that Joyce had always intended to finish! I have a feeling it might remain a family treasure.
So, these are a few memories that Alex & John shared with me. Good memories and, as Alex said to me, Joyce was someone who had no enemies. She did make friends with ease.
In recent times, Joyce had her challenges especially with her failing vision but, over the past 3 years, Alex has been there as her carer. Well done, Alex.
There's no doubt that Joyce leaves many good memories.
Eulogy for the McAinsh family – John Duthie
Thank you, Doug, for the rundown of the facts and figures of the life of my mum. I will be sharing memories of my experiences with her, hoping it will help us celebrate her life.
Hettie and Harold had 10 children, and mum was the last sibling to pass away. It is fitting that I commence by sharing my experiences and thoughts of mum's immediate family. Harrold, as well as Auntie Betty Mary, passed away before I was born.
Hettie was a hard-working person, both with the work on the farm as well as being a mother of 10. A character,  with a great sense of humour. Each Sunday afternoon, she would open the family home and a large crowd would gather. Auntie Audrey would make scones and never talk. Many XMAS evenings, we gathered there or at the homes of her children. The men would play poker and drink beer, and once I got grandma's dog drunk. Grandma would play snakes and ladders with me from an early age, and kept playing, although her vision failed. It made it easier for me to cheat. When Hettie took her medication, it was advisable not to sit opposite her at the kitchen table. She wouldn't swallow the meds, and instead, spat them across the room, hoping no one would notice. Hettie passed away at home at the age of 96. The same details as my mother.
Uncle Arthur asked lots of questions, followed up by 'just asking, I don't want to know'. Externally he was loud, had lots of opinions and a rough exterior. Internally he actually loved and cared.
Auntie Nell was a very patient person (as she was married to uncle Laurie). She played golf with my mum, Uncle Robert, dad and myself. And allowed me to always play her piano and use Back yard see-saw. A Staunch North Adelaide Football Club supporter.
Uncle Bill passed away when I was young. My only memory is his car – may have been a Morris minor. It almost killed me. More details later.
Auntie Margaret was another staunch NAFC supporter. I'd stir Margaret and Nell at Prospect Oval games by standing behind them and abusing their players. It only took a few minutes for them to start abusing me and then to recognise me. Margaret worked at Cox Foys, and at Xmas, times had rides on top of their building in Rundle Street. She was lucky with poker machines and lotteries.
Uncle Donald loved hosting XMAS parties and setup his garage for playing billiards. His daughter, my cousin, Carmel and I would hit rocks with tennis racquets from his backyard.
Uncle Doug played for NAFC and loved the club. He was very competitive and hated losing out to me with chess or general knowledge.
Auntie Marjorie passed away when I was only ten, and I recall her kindness and beauty.
Uncle Robert was a great artist, who drew many things for me. He played for the NAFC and had digestive issues.
Eulogy for Joyce Dorothy Duthie (my mum) – John Duthie
Now my mum. Every funeral I've attended just mentions good things about the person. I am going to share a few bad things, as no one is perfect :-).
The bad
My mum forced me to eat spinach, as I had lowe iron levels. I hated it then, love it now and now grow it. She tried feeding me eggs and I recall spitting it out.
And there was the incident that causes the only ever argument I remember between my mum and dad. The kitchen table had sharp edges, and my forehead was just the right height to collect the edge. After rubbing butter on my head and trying to hide the injury with my hair, my dad came home and discovered the injury.
Now to complete the story of Uncle Bill's car that almost killed me. I was sitting next to the left rear door, and mum in the middle and uncle Bill turned right. The door flew open, and the car had no seatbelts. I stared at the door and then my mum grabbed me to stop me from falling out.
And now the good memories…
I had a happy childhood and never lacked anything. As I was an only child I didn't have to share. Carmel would come over and stay at times. I remember gathering autumn leaves at the Botanical Gardens; going to the zoo; holidays in Melbourne and Sydney.
Mum went to a Methodist church in Prospect, and she sent me to Sunday School at Payneham Methodist church. Mum and Dad provided great educational support starting with mum walking me to and from kindergarten, and primary school until I was old enough to do it. They supported me through high school and university, and in 1983 I attempted to get mum to use a computer.
Mum supported me during the marriage, and with my children, Jasmine and Ben. She ironed our clothes every week and did babysitting each and every time she was asked. Mum loved being with Jasmine and Ben.
My accident in 2009 commenced a difficult for Mum but kept coming into hospital to see me. She put on a happy face,  enjoyed hearing about my progress through the 14 months of ICU and then rehab. Dad also spent over a year continually in hospital when broke leg just after marriage.
Later in life, Mum's health deteriorated including her vision and hearing, and recently cancer, but was able to keep living at home. The only help my parents received in life was a gardener. That's quite an achievement.
Mum will be remembered for
Loving Aussie Rules football

She swapped from the NAFC to the PAFC – must have shocked her family
The favourite player was Russell Ebert. The insides of her spice cupboard still have clippings from the newspapers
I purchased mum an original duffle coat that has Ebert's name and number on the back, which is on display today. As well as a magpie
Later during the committal, we Will be playing 'never tear us apart'. The song is used when the power commence their games

Wanting to look her best
Helping others including her family
Being able to deal with difficult times in life
Never complaining
Always a smile and a good word for others, and would never say something bad about a person
Thank you
Doug and everyone here today for remembering celebrating the life of my mum and supporting family members
Rosetta and Blackwell funerals for services
Jasmine and Ben for their love and the relationship they had with their grandma
Madie who loved and cared for my mother as if Joyce was her own mum
My Dad for his love and care for my mum for over 60 years, and asking me to provide the eulogy
And mum. Thank you for your love. I will miss you. Love you
Click here for more information about my blog.
Thank you for taking the time to remember my mum.
Condolences